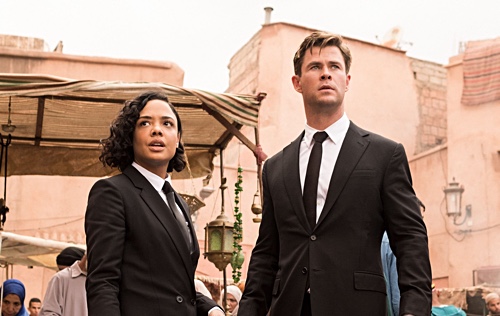 Men in Black: International (2019)
★★ / ★★★★
F. Gary Gray's "Men in Black: International" is a tolerable but forgettable reboot that does not take enough risks because the studio is afraid to provide a work so different that fans of the franchise may find it unpleasant, off-putting, or unrecognizable. But guess what? The last entry was released seven years ago. The more appropriate move, one may argue, is to overhaul the series completely, turn it toward a different direction, and let it rip. It may or may not have worked. But at least it would have been memorable, a fearless experiment. Instead, however, we are handed this reluctant reboot, too safe to become anything more than a movie to be forgotten about once the end credits appear. A losing strategy was chosen.
We follow Molly (Tessa Thompson), dubbed Agent M by Agent O (Emma Thompson), lead of Men in Black's New York branch, during her probationary period in London. Smart, observant, and highly enthusiastic to learn more about the secret organization, Agent M recognizes that Agent H (Chris Hemsworth) is one of the top suits within the London branch, and so she finds a way for the two of them to work on a case. The screenwriters, Matt Holloway and Art Marcum, make the correct decision to establish the protagonist before the banters and the effects-heavy action sequences. Because we get a sense of her quick wit, resourcefulness, and determination, we do not question her qualifications. If only the rest of the picture functioned on this level.
Exchanges between H and M are hit-or-miss. While Hemsworth and Thompson share some chemistry, it is never fiery or crackling. Perhaps it is in the way the characters are written when together. They have different personalities but they are not opposites. And because they are not opposites, they rarely clash. And because they rarely clash, drama fails to reach a zenith.
It is apparent the duo are meant to be liked, together and apart. They are played with cool and gusto by the attractive leads, but this approach comes across as boring at times. The humor is like a gentle tap on the shoulder when there are instances where we crave for a playful punch in the gut. Furthermore, it oozes political correctness when it comes to gender and I found it to be both distracting and patronizing. The casting itself is already daring. Why not go all the way?
I enjoyed the curious creatures that populate this universe. There are nudges to previous "Men in Black" films but these are rarely ostentatious. I smiled at the small moments when the camera would linger for an extra second or two to admire an an extraterrestrial's body shape, skin texture, tentacles, number of heads, humanoid eyes. They need not talk, or grunt, or do anything to have a personality. It gives the impression that the filmmakers are proud of the special and visual effects outside of the action scenes even though these effects do not always blend seamlessly into the environment.
Speaking of action scenes, they are tired and generic. There is nothing special about toy-looking guns shooting colorful lasers. Cue the swooshing sound effects and CGI explosions. To me, these are mere punctuations to the adventures Agents M and H must go through to forge a formidable partnership. After all, the point is to revive a nearly dead franchise. If this core wasn't strong—and it isn't about half the time—then the movie would have been an exercise in futility.