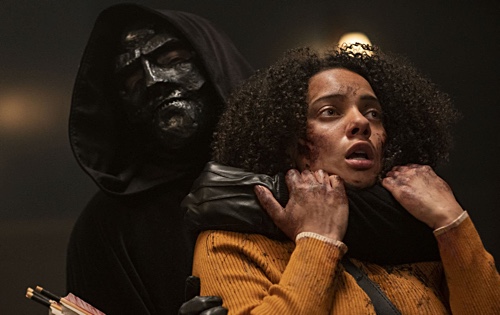 Black Christmas (2019)
★ / ★★★★
Although Sophia Takal's "Black Christmas" is not a straight remake of the 1974 cult classic, it is apparent that the work is without inspiration. The victims, most of them women, still behave as though they have never seen a horror picture and so they end up making the same mistakes as sheep destined to be skewered in slasher movies. You cannot help but groan when a sorority girl asks, "Hello? Is anybody there?" while seemingly alone. You know precisely what's about to happen when another sorority girl decides to go upstairs to look for an item in the dark. Halfway through, I could not help but wonder about the point of it all. I came to a conclusion: Because slasher flicks are cheaply made—and this movie does look cheap—this is just another desperate attempt to make money. You'd be wise to avoid it.
Yes, it is also one of those "Girl Power!" movies. That is supposed to be its fresh take on this familiar story of sorority girls being terrorized by a killer, or killers, on campus during the start of Winter Break. But that is not enough to make a strong horror story. In a way, an argument can be made the original is already that kind of work. It just wasn't so in-your-face about it. The feminist stance is utilized like a sledgehammer; notice how the final act is so similar to the final episode of "Buffy the Vampire Slayer" which aired fifteen years ago: Women, weapons in hand, rising up against evil. What was fresh and fun then is tired and lame now. It feels forced. Unlike the film, the show was given an entire season to develop its themes.
An attempt is made to make the viewers empathize with the lead character. She is named Riley (Imogen Poots), still traumatized from having been raped by a fraternity president. The authorities were not convinced that she was raped, and so he got away with it. We are provided no information as why the cops did not believe her, or whether they even performed a proper investigation. The screenplay simply insists that we trust the superficial dialogue. Riley copes by staying away from social events, but she does have a core group of friends with whom she feels comfortable to be around (Aleyse Shannon, Lily Donoghue, Brittany O'Grady). We expect for these girls to start meeting gruesome deaths just about the halfway point. And they do.
Expository sequences suggest that fraternities are inherently racist. While interminable and preachy on occasion, the screenplay brings up an interesting discussion about legacy and why we as a society, especially us Americans, tend to have a difficult time letting go of certain histories or historical figures even though everybody knows what they stood for. Doing so perpetuates the oppression of people of color, of women, of the poor, of those who may not fit within the heteronormative sphere. But then the screenplay goes nowhere with the ideas it brings up. Instead, we are provided a twist so ridiculous we cannot help but laugh then ask ourselves, "Is this really where the story is going?"
It is ironic that despite its identity politics, "Black Christmas" struggles with staking an identity of its own. Co-writers Takal and April Wolfe should have strived to create a potent horror flick first and foremost. Scares must be present. There must be tension, build-up, suspense, thrills. Catharsis must not only be well-earned, it must make sense within the scope of the story. Instead, we are offered regurgitated material and we are expected to take it passively. It is junk entertainment without the entertainment.