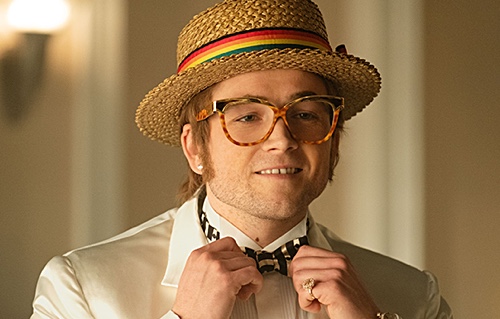 Rocketman (2019)
★★★ / ★★★★
"Maybe I should've tried to be more ordinary."
In the opening sequences of Dexter Fletcher's entertaining and surprisingly moving "Rocketman," which focuses on Elton John's breakthrough years, it is communicated with blinding clarity that the subject will never receive the love he deserves from his parents (Bryce Dallas Howard, Steven Mackintosh). And so the viewers are inspired to make an assumption: The rest of the picture will be about Elton attempting to fill that void. On the one hand, the presumption is accurate. There is an abundance of rock-and-roll, sex, booze, and drugs. On the other hand, the film is able to overcome the expected trappings of a musical biopic because it is willing to embrace a more introspective approach—even if it means applying the breaks on its forward momentum. It dares to take risks—sometimes unnecessary risks. And that's rock 'n' roll.
It is an interesting way to tell a story, particularly when real-life events merge—at times quite suddenly—into imaginings and longings. The approach is never the same. A song and dance number can break out at any time: in the middle of a suburban street, at a psychedelic party, while making a record, while arguing over a record, back stage before a big show, even when one's life is on the balance. It makes the point that putting on a performance is almost like another addiction for Elton. That is why when confronted by the searing question of why he feels the need to put on ostentatious outfits during a show, he cannot provide a strong answer. A performance is expected out of him, on and off the stage. He feels the need to deliver because he does not wish to disappoint his fans—just as he is afraid to disappoint his parents who are already cold to him.
While all of Elton's memorable songs are present, from "The Bitch is Back" and "Your Song" to "Crocodile Rock" and "Goodbye Yellow Brick Road," notice that if these were stripped away completely, the movie would be able to stand on its own. Taron Egerton plays Elton John with such high level of vivacity, even when his character is in the dumps, that it is near impossible not to feel impressed with his all-in approach. Egerton shines most when paired with Jamie Bell, portraying Bernie Taupin, the lyricist alongside Elton's melodies and Elton's best friend. The love shared between Elton and Bernie is so strong and infectious, I caught myself wishing they had a movie of just hanging out, laughing, being silly, writing songs.
It does not glamorize the life of a superstar. In fact, the screenplay by Lee Hall makes a point that it can be such a cripplingly lonely profession. It is a great challenge to discern between those who only want you for your fame and money and those who genuinely care about you. Elton is able to find financial success, but he remains that child who yearns to be hugged by his father. This theme runs throughout the film and it becomes sadder every time the subject is disappointed by a person he thinks is being true. And so he snorts another line of cocaine. Followed by gulping down yet another bottle of vodka.
Unlike the Queen biopic "Bohemian Rhapsody," "Rocketman" is proud to embrace its subject's sexuality. Instead of hiding it, or toning it down, or shaming it, as in the former picture, it is celebrated here—not by flooding the movie with characters who nod or smile approvingly but through Elton's resiliency as a gifted artist who just so happens to be a homosexual. Here is a musical biopic with elements of fantasy that gets it exactly right.