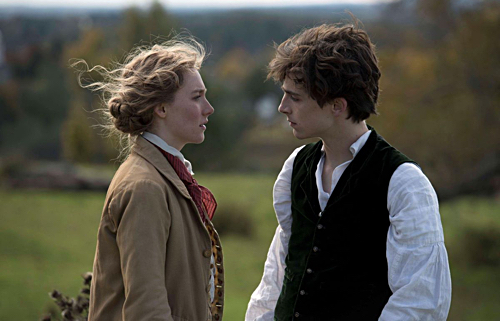 Little Women (2019)
★★★★ / ★★★★
Greta Gerwig's retelling of "Little Women," based on the novel by Louisa May Alcott, made me realize how unconvincingly most families are portrayed in the movies. Here, notice how the March family are always touching each other, whether they are playing, providing comfort, fighting, or simply hanging about the house and discussing what it is they hope to achieve or become in the future. We get so comfortable in inhabiting their specific living space that eventually we know which comb, or doll, or dress belongs to which sister. And by the end of the film, we not only have a complete idea of their personalities and interests, we know what it is that they value as individuals—so we see beyond their words and actions as if looking through glass.
For the most part, the picture is composed of impressions; it is almost like a collage. When Jo the writer (Saoirse Ronan) decides to chop her hair off for a noble cause only to cry about it that same night. When Amy the painter (Florence Pugh) wishes to get revenge on Jo and so she decides to hit her elder sister where it hurts most. When Meg the actress (Emma Watson) confesses to her husband she is bone-tired of being poor. When Beth the pianist (Eliza Scanlen) contracts scarlet fever for trying to help out their indigent neighbor in the dead of winter. Despite the differences among the young women, the writer-director manages to find and underscore their similarities in just about every scene. Even when the sisters clash, there is an underlying message they are family first. It proves a warm feeling, at times even simply a flicker of it, in the face of life challenges big and small.
There are two timelines seven years apart: When the March sisters are still living under one roof and when they have taken their separate paths. Because Gerwig's energy as a director can be felt so strongly, it would have been preferred if she had found a way to show the past and current time outside of the warm/yellowish and cold/bluish color palettes, respectively. The approach is too ordinary, generic, for Gerwig's caliber. Perhaps the fresher choice would have been to choose one color palette and relied on cosmetics or clothing style to reflect where the sisters are in their lives. An argument can be made that there is already a vast difference in how the characters look and carry themselves as youths versus young adults that changing up the hues is unnecessary, maybe even heavy-handed.
Although the story focuses on the young women's pliability and strength, it finds no need to bring down its male characters—which is so unlike movies these days that wish to make a statement. On the contrary, it treats both sexes as real people with real feelings, real thoughts, and real problems. Appropriately, the central couple, Jo and Laurie (Timothée Chalamet), is provided complexity even though they do not undergo a standard courtship.
There is tension in the possibility of the two being romantically connected because we learn that Jo regards marriage as a sort of prison, an act of relinquishing freedom as a writer, as a woman, and as a writer who happens to be a woman. Her ambitions are great and nothing may get in the way of it. Laurie, on the other hand, is a classic romantic. He is kind, patient, and giving. We know he means what he says, and he does love Jo, possibly more than Jo even realizes, but we wonder if his values match that of Jo's. It is without question his ambition is smaller than her's—possibly because he was born in an affluent family. Thus, we wonder if they can remain happy as a couple, and as individuals, in the future. The question is whether or not they will end up together, but rather whether they are right for each other. There is a difference.
This is only one example of the many compelling relationships in the film. Nearly every one is given detail and dimension. Interestingly, notice that the most telling moments are the quiet sort. For instance, early on in the story Laurie is welcomed into the March's home after helping Meg get home due to a twisted ankle. Chalamet stands in one spot and allows his character to enjoy the laughter, the chatter, and the commotion in the house. Laurie does not say a word, but the camera observes him closely. I am convinced it is the precise moment when the character decides to be part of this family. The March may not have a library or a grand piano as his palatial home does. But there's always warm food on the table, there's happy screaming and cackling, teasing, and somebody to lean on. The movie is a reflection of what many of us wish to have. And, for some of us, a reflection of the things we have lost. It is a worthy retelling of a classic novel.