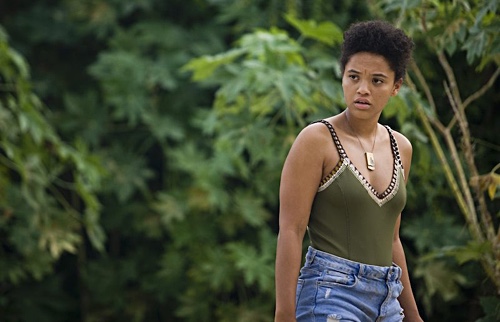 Sweetheart (2019)
★★★ / ★★★★
A creature-feature with enough expected elements to scratch the itch of those invested in the sub-genre, "Sweetheart" tells the story of a young woman named Jennifer (Kiersey Clemons) who finds herself washed ashore on a small deserted island. Not only must she contend with hunger and exposure, it seems there is a monster living in a hole just off the island. It tends to come out only during the night. Co-writers J.D. Dillard (who also directs), Alex Hyner, and Alex Theurer possess an understanding of the genre. They keep it short and sweet with just the right amount of tension, violence, and gore. It's a good flick to watch during a rainy day.
Clemons does plenty with what she is provided. It is a role not reliant on words or dialogue and so she is required to communicate thoroughly using her eyes and body language. Right when we meet Jenn as she regains consciousness on the beach, Clemons plays the character with a level of alertness, intelligence, and grit. Because she portrays Jenn with a high level of urgency from the get-go, even though we already have an idea regarding the initial elements she must come up against, we become interested in how the character might fare on this island. I enjoyed moments of humor, particularly when our heroine is learning how to open coconuts, how to fish, to trap larger prey. Desperation can be played for suspense and thrills. But it can also be played for humor.
The monster living in the ocean is terrifying precisely because not much of it is shown. We learn a number of things about the creature (Andrew Crawford), like how it sounds, how it prefers to hunt, how it moves on land versus water, how sensitive it is to sound and smell, what it prefers to eat, if any. It is a formidable enemy not just because of its incredible speed, strength, and body size; Dillard drenches the monster in mystery. It is the correct decision not to explain the creature's origins or whether it has a special weakness. The only thing we know for certain is that it must die in order for Jenn to live or possibly even escape the island.
The picture's weakness involves additional human characters introduced about two-thirds of the way through (Emory Cohen, Hanna Mangan Lawrence). I will not reveal who they are, but I found them to be of great annoyance. I was particularly surprised by how generic Cohen portrays his character since he is a character actor. I felt no inspiration from him this time around. Clemons completely overpowers her co-stars nearly every second they share the screen. And when Clemons is not in the frame, I caught myself wondering where Jenn is and what she is doing.
However, the Cohen and Lawrence cardboard cutouts introduce an idea: that Jenn is a person with whom others find difficult to believe. Is it because she has a history of lying and getting caught? A simple case of being a poor storyteller? Is there something in her life back home that contributes to a potential attention-seeking behavior? The screenplay fails to delve into this curious topic—which I think is a big mistake. But putting these planks of wood into the mix long enough to broach the subject allows the creature to function as a metaphor for the story.