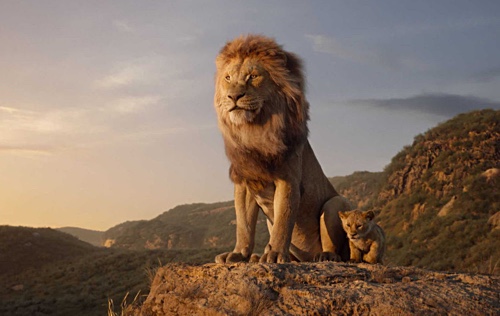 The Lion King (2019)
★★ / ★★★★
Jon Favreau's photorealistic CGI orgy "The Lion King" exists solely to underscore the superiority of Roger Allers and Rob Minkoff's 1994 classic family film. On every level—from the animation, the dialogue, the timing between words and actions, down to the majestic score and toe-tapping songs—it is without question that the latter is better, stronger, more emotionally intelligent and involving. And so one is forced to wonder, "What's the point of retelling the same story, one that is occasionally a shot-after-shot replica of the original?" The movie does not provide a good enough answer. If one were naive, one might believe it is out of curiosity and nostalgia. The reality, however, is that the film is meant to be another cash grab.
There is only one sequence in which this modern interpretation does something exactly right. At one point in the story, it is assumed that Simba (voiced by Donald Glover), future king of Pride Rock, perished in a stampede along with his father, Mufasa (the inimitable James Earl Jones). The knowledge of Simba's survival, now an adult lion who lives in a faraway land, must make it to Pride Rock. Instead of copying a simplistic, straight-to-the-point sequence from the animated film, we a follow a clump of Simba's mane going through a journey. It is executed with a sense of wonder, humor, patience, and magic. Had the rest of the work functioned on this level, the film could have served as a natural extension of the source material.
The voice acting leaves a lot to be desired. Jones as Mufasa is perfect and there is energy behind JD McCrary's work as Young Simba. However, John Oliver's interpretation of the motormouth Zazu, majordomo to the king, is awkward and forced. At times I found it to be irritating and unpleasant. Beyoncé's Nala, Simba's best friend and eventual romantic interest, is extremely distracting. Every time Nala speaks, it reeks of Beyoncé rather than the personality of the character. Meanwhile, Seth Rogen's comic relief Pumbaa and Chiwetel Ejiofor's villainous Scar, are tolerable but nothing special or memorable. The voice work is such a mixed bag that one cannot help but wonder if these people were cast simply because of their names, not because their voices actually fit the characters.
Every song is done better in the original; they had more life, were more transportive, and certainly more emotional. Perhaps it is because in this film, there is an attempt to modernize the songs. Listen to "I Just Can't Wait to Be King" and notice there is a lack of verve behind brilliant one-liners that just so happen to be sung in a song. Emphasis is placed on the beat, for instance, rather than the clash between the cub who would be king and the annoying red-billed hornbill assigned to protect him. Do not get me started on "Be Prepared"—which is supposed to underline Scar's thirst for power; he so wishes to be king that he is willing to forge a partnership with the hyenas to murder his own brother. This song is completely butchered here. "Hakuna Matata" is supposed to be fun, but the meta-jokes in terms of visuals overwhelm the meaning of the song. Meanwhile, "Spirit," an original piece, does not hold a candle against any of the songs, new or old. In fact, it feels tacked on, a bizarre appendage.
Spiritualism oozes out of the original's every pore. It is expressed through kaleidoscopic colors, voice talent that feels exactly right, humanistic dialogue (which is ironic since the characters are not human), down to the highly textured and detailed animation. At times the animation style may even undergo hyperbole in order to make a point. It goes to show that photorealism comes with an important cost: a story that is supposed to be larger-than-life is reduced to something ordinary. For a story that unfolds in the wild, it lacks joy and freedom.