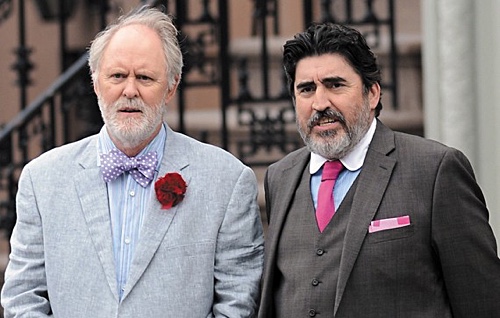 Love is Strange (2014)
★★ / ★★★★
Ben (John Lithgow) and George (Alfred Molina) decide to get married after being together for thirty-nine years. But after the bishop learns about the union, George is fired from his job as a music teacher in St. Grace, claiming that he has defied the Christian Wellness Statement—a document he signed when he got the job decades ago. Rent is expensive in New York City and so the couple decide to sell their apartment and seek help from friends who might be willing to house them temporarily.
"Love is Strange" is a movie that is easy to like in concept but one that is difficult to admire in execution. Molina and Lithgow turn in wonderful performances but there are too many distracting and rather pointless subplots that could have been eliminated to make room for more interactions between the two lead characters. Although one might argue that the separation of the couple is the point of the story, their individual situations ought to have been equally interesting or engaging.
Ben gets to stay with his nephew's family. We are supposed to notice that the family is not very close. The parents (Darren E. Burrows, Marisa Tomei) are so involved in their work that it seems as though every little thing serves only to distract them. They are barely even able to look at one another in bed. The teenage son (Charlie Tahan), meanwhile, becomes increasingly irate because of the new living situation.
The screenplay by Ira Sachs and Mauricio Zacharias fails to turn the family into one that is accessible and warm even for just a few instances. The contrast between the relationship of this family versus what Ben and George have is so heavy that it does not leave us the opportunity to simply absorb who these people are. In other words, they function too much as tools of the plot. Stories like this yearn to be told organically, painting the relationships among people with complex humanity.
The same observation is observed with George's living situation. Although the material is right to focus on the character feeling out of place rather than judging a younger gay couple's generation and lifestyle, we barely spend time in that apartment. We learn that the couple George is staying with likes to have people over and that is about it.
Lithgow and Molina play their characters as whole people. I always make a point that I have to be able to imagine a character's history for me to completely believe that who I am watching is worth learning more about. Here, the two actors need not communicate with words. Take a look at the first scene when Ben gets out of the shower and George simply greets his partner with a smile instead of having to say, "Good morning."
Not once do they say, "I love you" to one another either. Their feelings for one another are almost instinctual; they need not communicate or explain what they already know exactly because they have known each other for four decades. On this level, the picture is able to go above and beyond my expectations.
"Love is Strange," directed by Ira Sachs, ends in a genuinely moving way. It is rare to see teenagers cry in movies where we are convinced they are really hurting. We watch from a respectful distance: we do not see his face or his tears. We hear his stifled sobs and notice him struggling to regain his composure before stepping out of the building. We feel that he has learned something of value—one that he can take with him for rest of his life.