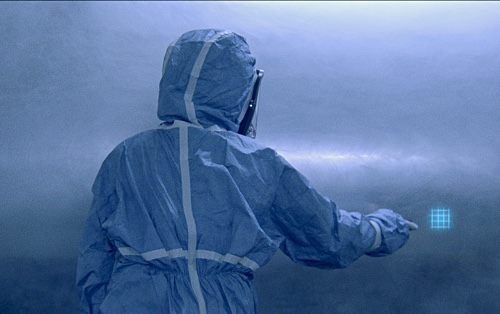 Aniara (2018)
★★ / ★★★★
Due to severe climate change, Earth has been rendered uninhabitable; it is time to colonize somewhere else. It is supposed to be a routine travel to Mars as a new batch of Earth citizens look forward to their new home on the Red Planet. The trip is supposed to take just over three weeks, but in an attempt to avoid space debris, the spacecraft Aniara is damaged and its fuel tanks ejected into the void of outer space. Off-course and without the means to set itself on the correct track, the captain (Arvin Kananian) informs his passengers it could take years for them to encounter the nearest celestial body so its gravity could be used to alter their current course.
Most admirable about "Aniara," based on the Swedish poem of the same name by Harry Martinson, is that it offers a future so bleak, one cannot help but feel fascinated with where the story might lead. Right from its opening minutes it is implied that the work will be a study of behavior: a cause (a story development) leading to an effect (passengers' responses). There is even commentary that although humans can be taken out of their planet, they cannot help but take with them the very characteristics that destroyed their planet in the first place. It offers no apology, no forgiveness. I found its bitter perspective refreshing. The work is not without ambition. However, the film is not for everyone.
Our protagonist is Mimaroben (Emelie Jonsson) but that is not actually her name. It is a title held by person in charge of a hall where a machine, Mima, is capable of showing, or reflecting, a participant's memories of Earth. It helps with the anxiety of space travel. But notice that although we have a main character and that we follow her throughout the picture, the focus is actually on the collective. This is certain to alienate viewers because we do not get to know Mimaroben in a deeply personal way even though we spend ample time with her.
In fact, notice that her responses to the story's events do not consistently reflect the majority of the passengers' fears, depression, and anguish. Early in the film, she confesses to her roommate, an astronomer who is always scribbling on her journal (Anneli Martini), that there is nothing waiting for her on Mars anyway and so floating in space indefinitely does not really bother her. As expected, changes occur in our protagonist but these are subtle. And the script certainly does not follow a typical parabola of character development. In fact, people tend to speak in expository dialogue. I appreciated this approach; it contributes to the impression of an impressive but impersonal future.
Less effective is in how the picture is shot. Almost immediately noticeable is how characters are almost always framed from the waist up. The filmmakers are also fond of extreme close-ups. While it can be effective during the more dramatic moments, especially when characters begin to despair regarding their fates, it is distracting for the most part. The story is unfolding in a massive spacecraft where hundreds, possibly thousands, of passengers can survive for years. Why do we not see more of it? I would have loved a small tour of the place.
By not employing the occasional wide shot, it fails to capture the splendor of the living space… or even to provide contrast between the inside and the outside of the ship. One cannot help but consider that directors Pella Kågerman and Hugo Lilja are ashamed of the set or set decorations—which are not first-rate but at the same time not terrible by any means. There is an irony to the whole charade because the forced framing actually garners attention—negative attention.
Most maddening is the rushed final ten minutes. Instead of offering answers or bringing up even more questions, it dares to throw away everything it has worked toward for the sake of delivering confusion or shock. Without giving anything away, the ending is supposed to be bleak and haunting but it comes across as a sick joke. I found myself chuckling not because the ending is clever but because I felt tricked for having invested my time and mental capacity only to be handed something nearly without value.
Should you choose to see this curious film anyway, proceed with caution.