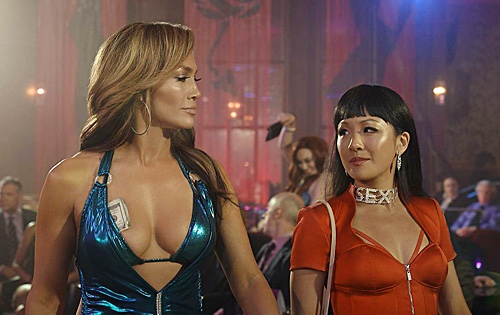 Hustlers (2019)
★ / ★★★★
Inspired by a true story of strippers who became so desperate to lead financially comfortable lives that they decided eventually it would be an excellent idea to drug their clients unconscious and cash in, it is astounding that "Hustlers," written and directed by Lorene Scafaria, is not a more savagely effective film. The reason is because elements are there to make compelling statements about the current economic state of America; how women are still considered to be the lesser gender—certainly one to be objectified; and how true upward mobility remains to be a dream for most working class Americans. It is like an essay with some good ideas sprinkled about, but these points are not tied together to make a strong thesis.
The work is not approached like a true crime story. On the contrary, the majority of the picture is composed of the strippers-turned-criminals celebrating their disgusting misdeeds: popping yet another bottle of champaign, going on shopping sprees, moving into another NYC apartment that is fancier than the last. It is necessary to show these peaks so that viewers may have an appreciation of how far these characters have fallen later on, but the intention from behind the camera must be clear as day—that the subjects' actions are wrong and therefore must pay for risking others' lives. Instead, during these celebratory scenes, we get the impression we are supposed to party right alongside the subjects. I felt sickened by it.
And so I wondered if this was the writer-director's intention. I was not at all convinced; I think that because our current culture demands that we celebrate women, especially solidarity among women, Scafaria lost focus on the type of story that is begging to be told. Instead of exploring the nature of the crime, perhaps even the complexity of it, the screenplay spends so much time on Destiny (Constance Wu), a new stripper in 2007 just before the financial crisis hit, wishing to be close friends—sisters, even—with veteran stripper Ramona Vega (Jennifer Lopez). Notice how the role of cops and detectives who have discovered the scam is so conveniently brushed under the rug. As a result, there is a lack of tension during the final act. Resolutions are cobbled together in a most awkward fashion. For instance, the scene of a former stripper being held at gunpoint provides no catharsis whatsoever.
Despite watchable performances by Wu and Lopez, the more compelling angle of the drama remains just underneath the topsoil, rarely touched upon. I grew tired of the constant fashion show and slow motion. Clearly, Scafaria knows how to capture her stars' faces and make them look breathtakingly beautiful. But we are not simply looking at pages of a magazine. This is supposed to be a rough and ugly story of people who are so tired of scraping by, so tired of feeling cheated by the current system, that one day they decide to come together and bet their morals and their freedom to reap big rewards. In a way, an argument can be made that the correct way to approach the story is through the perspective of a compulsive gambler. Perhaps then it would have embodied a certain intoxicating, self-destructive energy.
There is a compelling story in "Hustlers," perhaps even an insightful one, but it is buried so deep precisely because the writer-director has failed to show her subjects under a critical lens. There is a constant disconnect between the movie and the viewer. We get the impression that she wishes to protect these women, or some vague feminist idea, that she ends up preaching to the choir instead of telling a specific story without all the flowery half-measures. Halfway through, I wished another filmmaker—one who is seasoned at seeing through the fog—helmed the project.