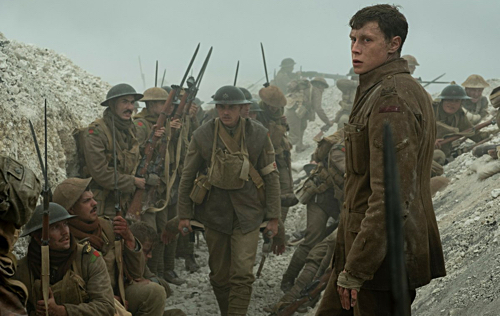 1917 (2019)
★★★★ / ★★★★
Since phone lines are down, Lance Corporal Blake (Dean-Charles Chapman) and Schofield (George MacKay) are tasked to deliver a message to the 2nd Battalion of the Devonshire Regiment, about nine miles away from their current location. Should they fail to accomplish their mission by next morning, 1,6000 men would perish against the Germans who have set a trap for the British soldiers. Executed with a clear and precise vision by director Sam Mendes (who co-writes with Krysty Wilson-Cairs), "1917" reminds viewers that too many war pictures tend to look like glamorous, stroll-in-the park action movies. It dares to look into the jaws of war and wrestle with its horrors without flinching. There is a sadness and quiet to this film that lingers. There is no doubt it is one of the best movies of the year.
The work is filled to the brim with specific moments. Right when we lay our eyes on the two corporals as they rest under a tree, the camera and timing is so alive, we gain an appreciation of their relationship even before they say a word. Every step taken by the duo during the seemingly unbroken shot is informative, pregnant with purpose. We become convinced they have been around one another for quite a while so that they are able to trust each other. Notice, too, that when an over the shoulder perspective is employed, the chemistry between Blake and Schofield continues to crackle. It creates a foreboding feeling that the two may not make it to their final destination. While their partnership proves to be a strength, it can so easily be exploited by the enemy in life-or-death situations.
They meet people along the way. Every one of them has his or her own story to tell, from the general who must remain resolute in face of a potential massacre (Colin Firth), the traveling platoon in which the young soldiers appear to look as though they do not possess a thorough understanding of what they are about to get into, to the French woman with a baby in a dresser drawer (Claire Duburcq). And yet the material limits our time with them—they appear on screen no longer than five to six minutes. They may be worthy of exploration, but we are reminded there is a bigger picture at play. We remember each encounter for the impressions they invoke. For instance, Lieutenant Leslie (Andrew Scott) may appear to be a disheveled alcoholic with a wicked sense of humor, but perhaps it due to the possibility that he has grown familiar and numbed by the pointlessness of war. He gives off the impression that it isn't his first time leading in the trenches.
Like the characters, the environment also receives great attention. A particularly harrowing sequence involves Schofield and Blake entering a seemingly abandoned German bunker. There is heavy dust all around, rickety beds are invaded by rust, and walls wear random scribblings. Although the camera is constantly on the move, our eyes make it a habit to examine every corner. Is there an enemy soldier waiting in the shadows of that particular corner?
When outdoors, it looks as though there is thick mud as far as the eyes could see. We notice flies feasting on corpses, both of man and animal. Rats scurry around from one buffet to another. We can almost taste the stink in the air. Dead bodies floating on water look real. Observe how white and bloated they are. Our protagonists must wade through the dead and climb on top of them in order to get on land. Here is a work that takes its time to get details, both in look and feeling, precisely right.
The most powerful moments of "1917" brings to mind one of the greatest war films ever put on film, Elem Klimov's unforgettable World War II diary "Come and See," from its use of animals, how there is horror and danger in every corner, down to the delicate moments when the camera stops the story from moving forward and simply fixates on the protagonist's face so that viewers are inspired to consider what he may be thinking or feeling. The work proves to be far more interested in how war affects a person rather than just parading epic images of war. This is the difference between an effective anti-war film and nonsense recruitment propaganda.