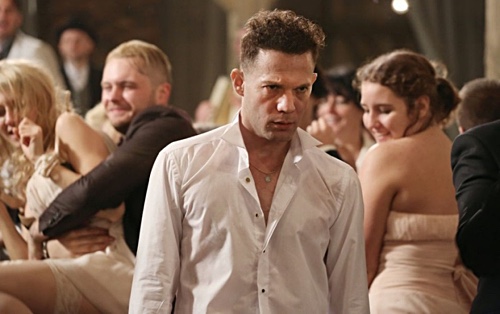 Demon (2015)
★ / ★★★★
The late Marcin Wrona's debut picture "Demon" tells a story of a man from London named Piotr (Itay Tiran) who goes to a rural area of Poland to marry Zaneta (Agnieszka Zulewska) a woman he met online. The day before their wedding, while digging in the yard, the visitor comes across what appears to be human skeleton. Although alarmed by what he has seen, he decides to keep his discovery a secret out of fear that it might derail the wedding. Late that night, due to heavy rain and mud, Piotr manages to fall into the pit. He wakes up the next day in his car with no memory of what happened after he was swallowed whole.
Although it is obvious that Wrona wishes to make a respectable and low-key horror film about the Polish' relationship with the Jews before and after World War II, the work is far from cinematic. It is a bore for the most part because the exposition is so drawn out—there are images on screen but none of them are particularly unique or interesting. We learn about the wedding and we are introduced to some colorful personalities, but we never get to know any of them, particularly Piotr, in a deep or meaningful way. And so when the usual razzle-dazzle regarding demonic possessions move toward the forefront, it comes across like another inert horror movie meant to be forgotten even before the end credits roll.
It is especially frustrating to sit through because the director proves to have an eye for capturing images so stark that at times it feels like looking at old forgotten photographs. Notice shots of the outdoors. For instance, we see miles of grass… but there is no cattle grazing on meadows. There aren't even birds making their way across the sky. There is construction in the middle of walls of sand and rocks… but there is minimal human activity, if at all. A similar observation can be made indoors. The house Piotr is staying in looks extremely run down. It gives the impression that the place is being renovated… but there are actually pictures hung on walls and decorations sitting on various corners. This Polish town is a depressing place. I would go as far as to claim it is meant to be a dead place, where people go to die. If only the screenplay by Pawel Maslona and Marcin Wrona functioned on the same level as the latter's observant photography.
Events happen during and around the wedding, but not one is particularly compelling. There is a lack of balance in tone. Right after the wedding ceremony, Piotr begins to experience visual hallucinations. Eventually, he starts to lose control of his own body. These are meant to be terrifying. Sandwiched in between Piotr's suffering is Zaneta's father (Andrzej Grabowski) and brother (Tomasz Schuchardt) trying to cover up Piotr's "embarrassing mishaps," like his seizure, which is supposed to be darkly comic. There are also tablespoons of absurdist humor in how wedding guests behave after having seen apparent medical emergencies.
However, there is no synergy established between horror and dark comedy. Usually, in order for the two to work together effectively, we must understand the characters thoroughly. In black comedies, for example, we laugh not at the events necessarily but at the people whom we know so well that we are tickled by their desperation. Within that desperation we recognize a part of ourselves. And so we laugh because perhaps we feel uncomfortable precisely because of that recognition. Here, the dark comedy is purely circumstantial. It becomes highly repetitive.
The spirit that possesses our protagonist is categorized eventually. I will not reveal it, but I can say that it has been introduced and explored in other, better horror movies. I enjoyed that the spirit is not the kind that inspires jump scares. In fact, it is treated as a rather sad entity. This is another avenue from which Wrona could have separated his work from other horror films. I'm afraid that by the time viewers get to this point—which is in the last twenty minutes of the picture—either they would be sleeping due boredom or given up completely that they'd have decided to walk out of it. And I wouldn't blame them for doing either.