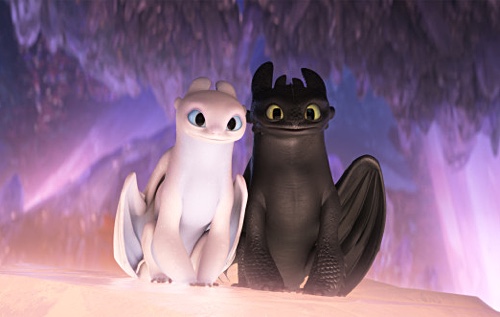 How to Train Your Dragon: The Hidden World (2019)
★★★ / ★★★★
Despite all the dragons, the Vikings, massive ships, and stealth rescue missions gone wrong, "How to Train Your Dragon: The Hidden World," written and directed by Dean DeBlois, excels during wordless moments when entertainment is created only through stunning animation and carefully crafted music. These instances, like a dragon courting another or longtime friends coming to terms with the inevitable, are beautiful and moving, appealing to both children and adults who appreciate storytelling more than empty and busy action. Although a third installment in a trilogy, the film is not bereft of introducing ways to dazzle.
This time, the central conflict revolves around Hiccup (voiced by Jay Baruchel) learning to become an effective leader of a community of Vikings who have grown reliant on dragons—so reliant that their island has gotten overcrowded. Due to the minute details of animation, we recognize that something has got to give from the moment we lay eyes on their island home of Berk. It is admirable that the answer to the main question is not simply moving to bigger, newer lands offering fresh resources. The screenplay offers long-term solutions both in terms of the needs of humans and dragons. As a result, there is finality to the story and it feels right.
Moving on with life is a recurring theme and it is executed with wonderful perspicuity. I think most important is the fact that the material assumes children are smart. For instance, when Toothless, Hiccup's dragon companion, comes across a female dragon of the same species, their connection is not reduced to a silly love story or romance. Sure, there are cute moments which involve Toothless' many attempts to impress the white dragon (with whom Astrid, Hiccup's betrothed, voiced by America Ferrera, refers to as "Light Fury"), but the point is to generate laughter and to communicate a creature's sheer joy for having discovered he is not the only one in the world of his kind, rather than to simply introduce a limp romance that merely functions as padding to the story.
Observe closely during these sequences. It is stunning how much range of emotions is communicated through the dragons' eyes, their body language, how fast or slowly they move, how their nostrils flare at moments of surprise or curiosity, how their limbs relax when they hover the air. One could watch Toothless and Light Fury on mute and yet not much would be taken out of the experience. It is that effective in delivering precise thoughts and emotions. It is here that it becomes readily apparent the film is superior than most animated movies, especially those that rely too much on noise and color to create junk entertainment.
The villain is formidable. Grimmel (F. Murray Abraham) is a dragon hunter who takes pride in killing dragons, especially Night Furies. He does not hate these creatures, but he enjoys playing games with them before going for the kill. On more than one occasion, the character is shown to be intelligent, always one step ahead, and experienced in the art of the hunt. However, the final confrontation with Grimmel lacks a certain level of catharsis. For such a detestable character, it would have been preferred if Grimmel had gotten his comeuppance. At the same time, however, an argument can be made that taking on a more expected approach surrounding heroes and villains might have lessened the point that the story is trying to make. It is not about good versus evil.