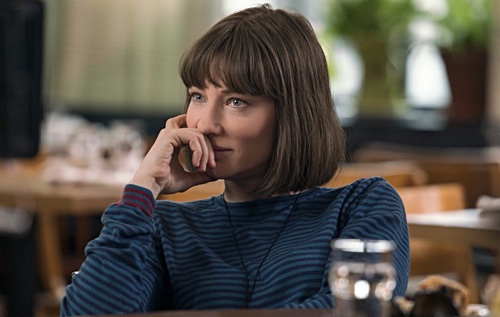 Where'd You Go, Bernadette (2019)
★ / ★★★★
The consistently aggravating comedy-drama "Where'd You Go, Bernadette" is adapted to the screen (along with Holly Gent and Vince Palmo—from Maria Semple's novel of the same name) by humanistic writer-director Richard Linklater, but the final product is a soulless, meandering one-note joke in which the protagonist's eccentricities are displayed on an unending parade as if these are enough to generate great entertainment. Cate Blanchett plays the titular character and because she is a veteran at playing a spectrum of notes, often in one scene, there are a few seconds here and there in which the movie feels somewhat tolerable. But not even a performer of her caliber could save this sinking ship, a true waste of time for viewers interested in worthy character studies.
Bernadette is supposed to be a genius architect who gave up her budding career twenty years ago after getting married to an animator (Billy Crudup), a genius himself, who now works for a branch of Microsoft. But instead of the screenplay finding ways to show us her gift in small or big ways, we are simply made to sit through an online video which summarizes her career. It is supposed to be funny—I guess—that the figureheads in the documentary are famous faces such as Laurence Fishburne, Megan Mullally, Steve Zahn, among others. But I was not at all amused by this lazy approach in building what is supposed to be a compelling character—a person who has become a menace to society (especially toward her neighbors and fellow mothers [Kristen Wiig, Zoë Chao]) precisely because her need to create has been suppressed for two decades. And whose fault is that, really?
Above is only one example of the many poor choices of establishing character. As a result, we never believe that the personalities on screen are truly drenched or dedicated in the eventual drama of a woman suddenly going missing after so many problems (one of which involves the FBI) come knocking at her door. They must simply make their way across the checkerboard in a predetermined way simply because the plot demands that they do. There is no feeling, just a death march to the finish line. Since there is a disconnect between people's thoughts and actions, there is nothing believable about generic responses to specific conflicts. Everybody is playing pretend; our boredom evolves into frustration.
Particularly painful to sit through is in how it showcases the marriage between Bernadette and Elgin. Right from the moment we meet them, there is no chemistry between Blanchett and Crudup. And so when the connection between the characters become colder or more desperate, the difference is negligible. The Crudup character is especially maddening. There are times when the performer acts as though something amusing is occurring on screen when it is supposed to be serious. Thus, Elgin is painted as if there's a meanness to him, that he is a husband who appears concerned about his wife to her face but is actually mocking when she isn't looking. This should have been recognized and corrected by Linklater—he has shown in his best works that everything on screen must work together in order to sell the drama of a relationship on equal footing, especially when there are numerous plates being juggled.
The disappearing woman act occurs way too late in the picture, when viewers likely have tuned out. A lot more attention (with slow as molasses pacing) is given to warring neighbors, a psychiatrist explaining psychological concepts, and mother-daughter bonding like singing in the car then eyeing one another dramatically. The would-be humanity in the picture is so planned, so forced, so fake. I could not wait to walk away from these intolerable cardboard cutouts and forget about them. The third act is especially clichéd. Of course it involves a teary reunion. Give me a break.