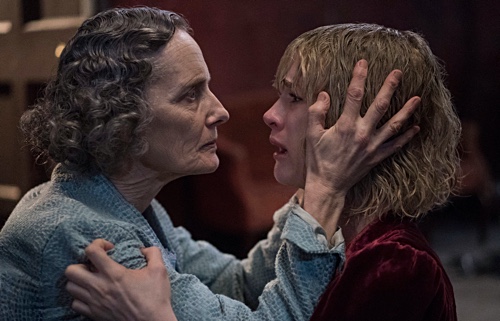 The Turning (2020)
★ / ★★★★
Henry James is turning in his grave because the latest adaptation of his novella "The Turn of the Screw" is brazen in sucking out the compelling human elements of the story and leaving the scraps to be modernized in a most uninspired, boring fashion. Carey W. Hayes and Chad Hayes are credited for supposedly writing the screenplay, but not only did they forget to bring original ideas to table, they have forgotten completely to give the film a third act. It ends so abruptly—offering no conclusion whatsoever—that the viewer is forced to wonder if the writers and director Floria Sigismondi actually cared about their project. It is offensive and a disgrace.
It is also a shame because Mackenzie Davis is quite watchable as Kate, a woman hired as a live-in governess in a massive estate that, as of late, has been plagued by mysterious deaths. Initially, it is Kate's job to take care of a gifted little girl, Flora (Brooklynn Prince), but soon her brother, Miles (Finn Wolfhard), comes home from boarding school. Davis' expressive eyes is fit for a role like this because Kate is required to investigate various areas of the dark, creepy estate on more than a handful of occasions. Those eyes, too, must relate to the children she is responsible for—even though at times her warmth is not welcomed.
The usual ghostly presences in the corner, our heroine walking down a corridor followed by a jump scare, creepy crawlers, and strange noises from nearby unused rooms are executed with minimal energy or glee. But because the setting is quite beautiful, particularly the foggy grounds of the estate—the maze, the stables, the fish pond—I didn't mind so much; I found my eyes glued to the screen anyway because I imagined on occasion how it must be like to live in house boasting a hundred rooms but only four people around. I appreciated Flora's loneliness; she is an orphan, her previous tutor left without saying goodbye, and her brother goes away for school. Before Kate, it is only her and Mrs. Grose (the committed Barbara Marten), a longtime servant of the Fairchilds who is wary of strangers and the children, specifically Flora, leaving the estate for whatever reason—even as simple as getting ice cream or doing a bit of shopping.
On the one hand, the work aspires to be just another haunted house movie—and there is nothing wrong with that. In fact, I preferred this approach. On the other hand, it introduces the possibility that the supernatural goings-on may be happening only in Kate's mind. After all, her mother (Joely Richardson) is committed to a mental institution. (We are supposed to believe she is clinically insane due to the unwashed hair, lack of eye contact with her own daughter, and the fact that she cannot help but to create art—so reductive.) It fails on this level because the screenplay is not written sharply enough so that the paranormal happenings that unfold around the estate could have, for example, scientific or evidence-based explanations. Since it does not provide room for reasonable possibilities, like the script, we go on autopilot.
"The Turning" should not have been released because it is not a finished work. For a more effective adaptation of James' novella, consider watching Jack Clayton's "The Innocents." It is superior in every aspect, including its approach in introducing the idea that perhaps the governess' mind is fractured. There is genuine suspense in the late-night investigations and we become convinced there is powerful evil in the house. By comparison, "The Turning" is a cheap play thrown by people who pretended to read the novella when in fact they simply glanced over SparkNotes last-minute and called it a day.