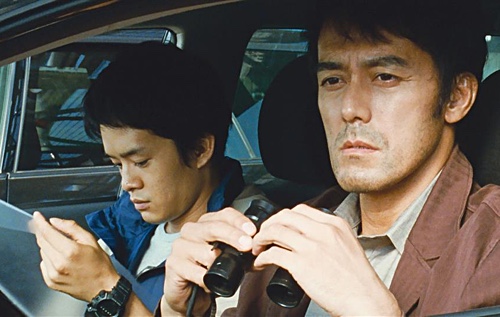 After the Storm (2016)
★★★ / ★★★★
Here is a film that offers a protagonist who is a loser in the beginning and by the end he is still a loser. More digestible works would have absolved their characters of important shortcomings—or, worse, granted flimsy, silly excuses for the audience to feel good. But writer-director Hirokazu Koreeda is not interested in this approach. Instead, he provides details about the character by showing us what is important to him. Understanding him does not change the adage that you can't teach an old dog new tricks, but it does remind us to take a second and be more sympathetic before casting judgement. What is film, after all, but a medium by which we get a chance to walk in another's shoes?
Hiroshi Abe plays Ryôta, a full grown man, divorced, so afraid of losing his son (Taiyô Yoshizawa) permanently—since his ex-wife (Yôko Maki) has begun to date a more financially secure man—that he decides to spy on them. Abe plays the protagonist with quiet desperation and we observe his deep yearnings seep into his work as a private detective. It appears as though each case involves a man or woman cheating on a partner. His escape is gambling. Asking people for money and attempting to pawn off various items for an an extra buck take up the rest of his time. Meanwhile, every time he gets a knock on his door, fear strikes him like a lightning bolt, fearing these might be debt collectors.
The camera has a habit of resting on Ryôta's tired face. Abe executes a great balance between Ryôta being self-aware of his worthlessness and wanting to change something in his life—even though he doesn't quite know what to change, or at least admit that he has a gambling addiction and it is a major contributor to his downward spiral. Since Ryôta has trouble defining himself, those around him tend to define him instead. Particularly interesting is the protagonist's sister who does not mince words. She's tough and she's right. She knows he will never change. I found the material honest in its portrayal of someone who understands another down to the bone. Immediately we get a complete picture of these characters' histories.
Despite an interesting but unexciting protagonist, the film is filled with beautiful moments. There is a series of scenes toward the latter half when the father gets a chance to spend time with his son (despite being unable to pay child support for three months). At first, they are in stores, surrounded by strangers, looking at items, buying them. But then they come to an area where the father spent his childhood. From here they begin to look at one another from time to time, excavating memories, forging a bond. Instead of the boy feeling guilty about which pair of shoes he'd like to have—the glossy, more expensive one versus the one on sale—he is asking questions about his father's experiences as a child. The contrast between these scenes is stark but can be easily missed. Clearly, this is not a work for those uninterested in interactions between ordinary people.
Koreeda creates a portrait of a family where the audience is asked to observe and note discrepancies amongst what characters say versus what they do. It assumes the audience is intelligent and engaged. He is not afraid of quiet and slow moments. Instead, he uses these moments to reveal disappointments, resentments, and, yes, even hope for the future.