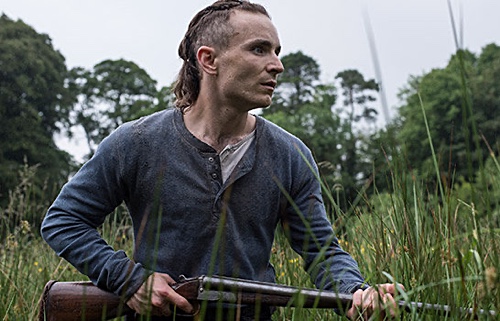 The Survivalist (2015)
★★★★ / ★★★★
It is about twenty minutes into the film until the first word is uttered in "The Survivalist," intelligently written and directed by Stephen Fingleton, a thoroughly engaging and unsentimental look into a future after a steep decline in human population. The story is told through the eyes of an unnamed man (Martin McCann) who lives deep in the forest. We meet him while dragging a naked male body across the forest floor, seconds before pushing the corpse into a shallow grave. Based on the survivalist's body language and his clockwork efficiency, this is not his first time throwing out the trash.
Fingleton dunks our heads into the main character's daily routine. He wakes up, washes up, tends to the small farm situated right outside the front door, checks bear traps for intruders, forages berries, washes clothes in a neighboring stream, and checks on the crops some more. Although we hear not one word word from or about the man, we learn so much about him in how the camera fixates on his movements, his eyes when he attempts to solve a problem, his posture when he longs for human interaction. An intoxicating rhythm is established and we come to have an appreciation of a specific person's lifestyle. It gets details exactly right. For instance, it is appropriate that our protagonist have dirty fingernails because he massages dirt every day; that his body leans toward the scraggy side since there are bouts of food shortages.
We also get a feel for the survivalist's mental state. There is a suggestion early on that perhaps he is on the brink of losing his sanity. He feels a hand on his shoulder. He turns around, in horror, and yet there is no one there. The writer-director makes the astute decision to linger on the face of our protagonist. He, too, wonders whether he is losing his mind. Again, we get an impression that this is not the first time it has happened. Keep in mind that up until this point not a single line of dialogue is provided yet. Despite this, however, we are able to extract a wealth of information because the screenplay, direction, and performance are so alive.
The plot does not take off until two women—mother and daughter—arrive at the small farm. The mother, Kathryn (Olwen Fouéré), asks the man if she and her daughter, Milja (Mia Goth), could take some of the crops. The man is unmoved. Jewelry is offered. Some seeds, too. He holds his position, shotgun pointing at the intruders, waiting for them to slip. An arrangement is made eventually. We know precisely what it is our protagonist desires based on earlier observations. The well-written screenplay has provided exactly what it is we need to know about the survivalist for the entire film's duration. But this is not to suggest he no longer has the ability to surprise.
"The Survivalist" is not for everyone. Although it adopts a dour tone similar to numerous post-apocalyptic films, the pacing moves at a snail's pace—without compromise. It keeps plenty of valuable information from unobservant viewers. I admired this decision; by focusing on the humanity of the characters instead of the action, every decision comes across calculated and important. We are challenged to wonder and predict which choices would prove fruitful later on or haunt the characters ten-fold. While most post-apocalyptic stories tend to be glamorized, this particular story goes the opposite direction. Its world is so unforgiving, there is no place for the weak.