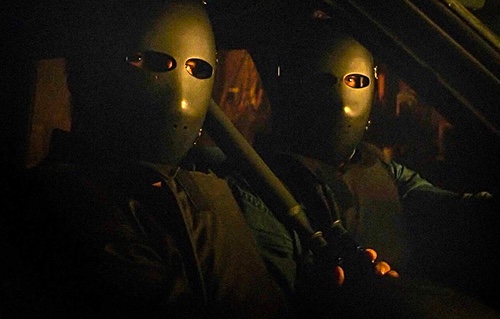 Dragged Across Concrete (2018)
★★★ / ★★★★
Two detectives, Ridgeman (Mel Gibson) and Lurasetti (Vince Vaughn), are caught via phone camera for being too rough on a suspect. Six-week suspension, no pay. The former has an idea: To rob criminals planning to execute a bank heist. The latter is given a choice on whether to join his partner. He accepts, albeit reluctantly; money is needed in the likely event his girlfriend accepts his wedding proposal. Like strong thrillers told with clear vision and precision, "Dragged Across Concrete" offers a straightforward plot—and yet many may find it to be a challenge to sit through because of its formidable patience. Without the fat, it is barely a ninety-minute feature. And yet it has a total running time of two hours and forty minutes. In this rare case, fat provides flavor.
This is a story of people who are required to sacrifice something important in order to achieve what they want. Most of them will pay with their lives. It is quite grim in its vision of reality, but I found it to be honest, too. Our detectives are not pleasant people to be around. For instance, one of them is a proud racist. The other tolerates his partner's… eccentricity. One feels he is owed by the city he has protected for doing "good and honest work" which supposedly justifies the corruption he is about to step into. The other knows he is smart and can do much better than to sit next to an increasingly bitter man who is twenty years his senior. Yet this man chooses to remain stagnant, coming up with one justification after another in order to delay what is right for his career.
These are interesting characters precisely because of their flaws. Exchanges between Gibson and Vaughn command electricity; they adapt a rhythm that feels cinematic without losing that roughness or jaggedness innate to independent films. Ridgeman and Lurasetti enable one another yet challenge each other in small ways, even in petty ways. Attempts at humor are present when it comes to their behavior, especially when both are confined in a small space—like how a sandwich is eaten. We spent ample time in their car, just waiting for something to happen. Those thirsty for action will likely get bored, but those who wish to understand these men will be curious of what they have to say or do next. I fall in the latter category.
Zahler's daring screenplay shines not just during shockingly violent in-your-face moments. Although I must say there is a murder that occurs about halfway through that haunted me until well after the end credits. Notice the material is not afraid to put the rising action into a screeching halt in order to provide exposition regarding new characters, who may or may not be critically important during the final act, and reveal their motivations. Instead of giving us repetitive car chases and shootouts, we take a quick peek at their home lives: the state of their living space, who is important to them, and why they come to the conclusion that money will solve their current woes. But what good is money when you're dead and you're not there to share joy and laughter with loved ones? To these people, it is worth the risk.
Looking at the work as a whole, I think its goal is to censure systemic problems in our current society: racism, corruption, and the constant failure to hold cops responsible for their actions in a way that is healthy and therefore have positive effects long-term. The movie is a look at how punishment-driven we are: imprison criminals when they need rehabilitation, suspend cops without pay when what most of them really need is proper training not only as cops but also as enforcers of law who must learn to relate better with the diverse communities they serve. Finally, it condemns how we as a society have allowed those in power to put money on such a high pedestal that we are willing to die to attain it. That is why the violence must be framed in an extreme fashion. The film is angry and we should be, too. Yes, the movie entertains, but it also works as social commentary should viewers bother to look underneath the sclera.