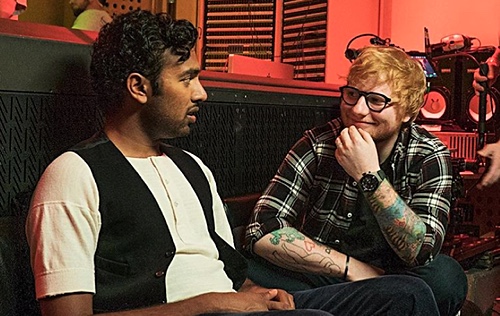 Yesterday (2019)
★★ / ★★★★
For an amusing and original premise in which our main character wakes up in a world where The Beatles did not exist, it is most disappointing that there is barely convincing drama behind "Yesterday," based on the screenplay by Richard Curtis and directed by Danny Boyle. At first glance, the picture is energetic, the actors appear to be having fun with their roles, more than half the jokes land, and the interpretation of classic rock songs and ballads retains the spirit of the originals. But look a little closer and recognize it is a challenge to care for any of the characters—even though (or especially because) we already know its ultimate destination.
The first half is stronger because it is willing to play with an original idea. A singer-songwriter who has failed to garner popularity and financial success in the past decade, Jack (Himesh Patel) has decided to give up on his dream of making a career out of making music. A strange phenomenon occurs during the night of his decision: a worldwide power outage lasting twelve seconds has erased everyone's memory as well as physical and digital evidence that The Beatles ever existed. Having gotten hit by a bus during the blackout, it appears that Jack is the only person who remembers the legendary band. Desperate to become successful, he tries to remember The Beatles' songs from memory and pass them off as his own.
This section of the film is very funny because Jack himself is in total disbelief of the impossible thing that had happened. In a way, he expects to get caught at any time because a world without The Beatles feels strange, emptier. Patel portrays Jack as a hardworking musician without a mean bone in his body—appropriate for a feel-good film about someone who gets the opportunity of a lifetime through sheer luck. Patel exhibits good timing when it comes to delivering punchlines, particularly when face-to-face with another who prefers a modern song from a modern band or artist over a classic song by The Fab Four. It is meant to be silly yet at the same time it works as commentary regarding the change of music, and music preferences of the masses, over the course of fifty years. Needless to say, there are plenty of jokes that rely on the viewer knowing particular Beatles songs, perhaps even a bit of background about them.
Far less effective is the love story that rots in the center of it all. Jack and Ellie (Lily James) have been friends since childhood. It is so apparent that they love one another from the moment we meet them… and yet there is no chemistry between them because the screenplay relies on recycling the same old tropes about one not coming to terms with his or her feelings until a significant or life-altering event is knocking on the doorstep. The romance is desperate for fresh ideas—and we wait for it because Patel and James seem game—but they never come. Notice during the second half that nearly every time the two are in a room together, one is required to deliver a would-be tear-jerker speech. I was not moved by a single one. They bored me.
I found myself more interested in Jack's savage agent named Debra who is played by Kate McKinnon. McKinnon portrays the Debra with a sarcastic and slithery quality, so brazen when it comes telling his client that all he is a product (when she is not insulting his highly ordinary appearance) and she plans to make a lot of money off his success. Debra may be a walking exaggeration, but the character fits the film because the premise, too, is a hyperbole. The final forty-five minutes to an hour ought to have been rewritten with far more ambition and originality. Instead, what results is a film with a curious premise but one that fails to be memorable.