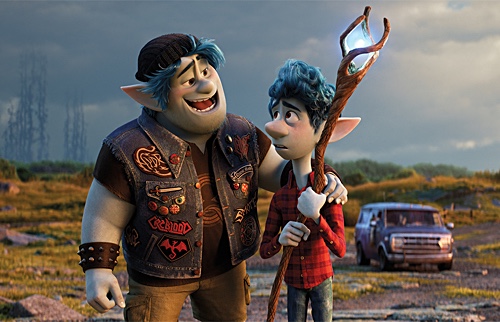 Onward (2020)
★★ / ★★★★
Dan Scanlon's "Onward" is what it must be like if Pixar shed away the majority of its convincing rollercoaster of human emotions and taken on the more action-oriented Dreamworks mantra wherein the animation's color and movement take precedence over telling a genuinely compelling story. This tale about two brothers who get a chance to spend one more day with their deceased father should have been far more emotional and worthy of contemplation. Instead, it is busy, loud, constantly on the move. It stops only when it is time to manipulate the audience into feeling something sad. I didn't buy it at all.
I must admit I enjoyed looking at the animation initially. This marks the first time that Pixar employs fantasy elements—unicorns, trolls, elves, and the like—while mixing the old with modern touches—cars, cell phones, toaster ovens. It is fun to note the disparities between the past and present, especially since the story's universe was once rooted upon magic. But because technology is more convenient than magic, it completely changed the creatures' way of life over time. There are numerous amusing visual jokes that do not attract attention; they are simply there to be appreciated should the viewer bother to look a little closer.
But in Pixar films, being beautiful visually is not enough to warrant a recommendation. It must have a strong heart at its center and it must be explored fully. I think the overall appeal is lost on me because I was never convinced that Ian (voiced by Tom Holland) and Barley (Chris Pratt) are actually brothers in conflict. Yes, they are presented as nearly opposites in physicality, personality, and interests, but the screenplay by Dan Scanlon, Jason Headley, and Keith Bunin fails to hone in on the complexities of being siblings who are several years apart.
If it did, it would have underscored that although they are different in many ways, these differences may actually complement one another at times. Or that their similarities are so potent, that these superficial differences may be negligible in the long run. Or both. Instead—observe carefully during the first fifteen minutes or so—we are inundated with dialogue that do not say much, slapstick and action that lead nowhere, and boring, barren busyness. And when the material does slow down eventually, note on how it relies on focusing on sad-looking Ian as he contemplates the father he's never had. I found the formula to be obvious and mechanical.
Ian and Barley's journey to restore their father's body is uninteresting for the most part. Their quest involves learning how to cast and control magic, meeting curious creatures, gathering cryptic clues and making sense of them, and being thrown into moments of peril—but there is nothing particularly compelling about the journey. The reason is because the material fails to provide an answer to the question of why Ian and Barley are best suited to take on this quest. They simply… are. I suppose it is due to Ian having a natural talent for magic and Barley possessing knowledge about how mythic quests work (he's a big fan of Dungeons & Dragons-style board games). But what else?
"Onward" may be intended for children, but Pixar has proven in the past that a movie can be targeted for kids—even very young kids—and still be savagely smart, emotionally true and complex, and wielding an intoxicating sense of adventure. This is why movies like "WALL-E," "Toy Story 3," and "Finding Nemo" (to name only a few) are modern classics. And conversely, movies like "Onward," "Brave," and all the "Cars" films feel like mere afterthoughts, existing solely to pass the time. We deserve better.