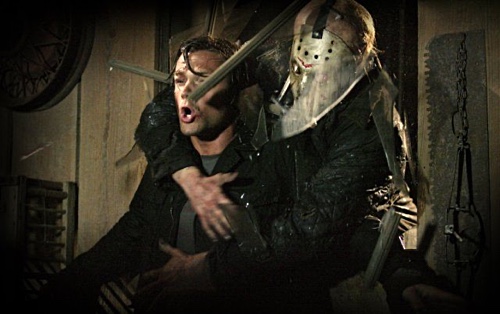 Friday the 13th (2009)
★★ / ★★★★
By around the twenty-minute mark, the final girl (Amanda Righetti) is in the hands of Jason Voorhees (Derek Meers), the deformed son of woman who went on a killing spree at Camp Crystal Lake almost thirty years prior, and the title card finally makes an appearance. By doing so, this remake of "Friday the 13th," directed by Marcus Nispel, makes a promise that the film will strive to be more efficient, more violent, and more intelligent than the sequels, perhaps including the original, that came before. After all, slasher films have evolved, been dissected, and spoofed over the years. In the end, however, it is just another disappointment.
It is a mistake to relegate the final girl's brother, Clay (Jared Padalecki), who remains actively looking for her around the camp after her sudden disappearance six weeks ago, as just another one-dimensional character. But unlike the fresh batch of friends (Danielle Panabaker, Travis Van Winkle, Julianna Guill, Aaron Yoo, Ryan Hansen, Arlen Escarpeta) designed to be gutted like cattle during the second half, he is meant to be the obvious good guy with whom we are supposed to root for to make it to the very end. But good guys in horror films, especially when they are not written well, get boring real quickly—as is the case here.
For instance, there is not one convincing scenario in which Clay is confronted with the possibility that his desperate search may be for nothing. And so we never get a chance to see or measure how he might cope in a situation that challenges his expectations. What is a villain like Jason, after all, but a metaphor for a seemingly unstoppable monster living in all of us? Instead, we are given a few confrontational scenes between Clay and the leader of the sheep to be slaughtered because the latter cannot help but to feel threatened when there's a low-key alpha dog within a one-mile radius. Not only is it preposterous, it's empty. It does not tell us anything of value about the protagonist or the figures we don't want to see murdered in brutal fashion.
Or perhaps we do. An argument can be made that one of the points of slasher films is to provide catharsis in the form of violence. While the movie does provide blood and violence by the bucketloads, these are not particularly inspired. I enjoyed the scenes where characters find themselves getting dragged underground or being stuck there and must then find a way out, but a lot more deaths take place out in the open where a rigid formula must be followed prior to the killing blow. It gets old even before the title card is shown.
During my occasional boredom and consistent disappointment, I thought of ways how the screenwriters—Damian Shannon and Mark Swift—might have played upon the formula with minimal effort. Perhaps the most effective way is to tease with suspense. The closest it gets is a scene where a man can be heard begging for help outdoors as his remaining friends cower in fear indoors. This scene could have had a much stronger emotional punch had the material dragged out the man's misery for one or two minutes. It is human to want to help… but it is also human to choose self-preservation. In other words, the writers have chosen to limit themselves when it comes to changing up the type of horror being tackled at a given time.
Due to the lack of daring and imagination, this remake of "Friday the 13th" is just another forgettable entry. It has the budget for gore, cosmetics, and neat special effects, but it lacks the aforementioned elements that matter most. Forget the bad or non-existent acting. This is a film that has learned next to nothing from previous entries—why one or two of them work and, more importantly, why most of them do not.