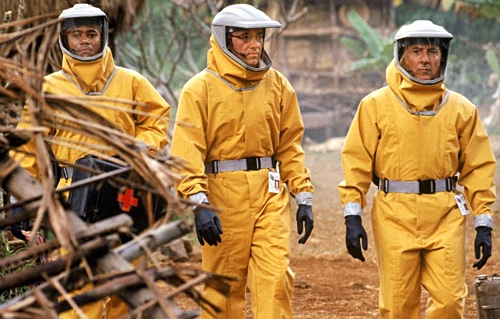 Outbreak (1995)
★★ / ★★★★
Wolfgang Petersen's medical thriller "Outbreak" is composed of two movies that do not mesh well. The first one, established during the former half, is a drama that tracks the origin of a new virus and how it comes to make its way to a small California town. The second, which dominates the latter half, is an action picture composed of helicopter chases, men in uniform yelling at each other over radio, and a bomb about to be dropped on the infected. The differences between the two halves are day and night and I wished screenwriters Laurence Dworet and Robert Roy Pool had chosen one path—the former which is vastly superior than its counterpart—and explored it without fear or shame that the material may not appeal enough to the mainstream audience.
Petersen commands a solid sense of pacing—very necessary because his all-star cast deserve to shine on their own, from Dustin Hoffman and Rene Russo as divorced virologists who work for the United States government, Morgan Freeman and Donald Sutherland as generals involved in a cover-up which cost innocent lives decades ago, to Cuba Gooding Jr. and Kevin Spacey as a new recruit and veteran field scientist, respectively. Patrick Dempsey even makes an appearance as a young man directly responsible, albeit inadvertently, for allowing the host animal to infect even more people. The powerhouse cast is juggled with seeming ease and there is genuine chemistry among them, particularly Hoffman and Russo even though I did not care much about the whole subplot regarding the former couple finding that special connection again.
Notice the dialogue. These are strong and forceful, almost always to the point—appropriate given the urgency of the plot. For instance, when the Hoffman and Freeman characters are at odds, there is a convincing push and pull between the two figures. We believe that these men have experienced major medical emergencies prior to this one, an Ebola-like virus from Zaire called Motaba, and so they are willing to fight what they believe is the right thing to do given a set of specific circumstances. At the same time, Drs. Daniels and Ford share a friendship just underneath their professional rapport. It is a joy to watch Hoffman and Freeman clash.
However, as the picture unfolds, the looming threat of politics and power play getting in the way of correctly (and morally) dealing with a public health emergency begins to take over. And as it does, the story, while somewhat sizable in scope, also starts to feel less personal or intimate and more like a standard action-thriller. Uncontrollable virus infection movies are scary precisely because we tend to relate to the confused and terrorized characters on screen who fear for their lives. The fear lies in something unknown but natural, not because of a missile or bomb threat.
And so it is ironic that by introducing two things that could kill—a virus and a bomb—the film is rendered less effective. It is far more unsettling to fear the unknown, something we cannot see or imagine. Bombs, on the other hand, are found in every other action flick. Still, even then the more action-packed chases are not all that impressive because they neither offer nothing new in terms of visuals nor is the action being told from a different or fresh perspective. Thus, the generic action comes across like an awkward appendage in otherwise watchable disaster film.