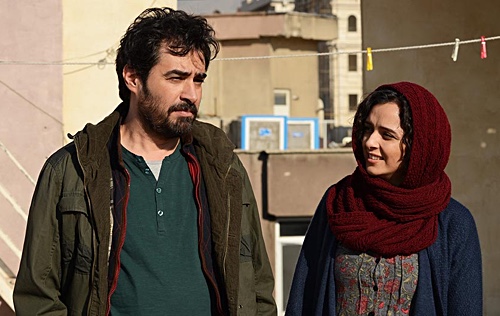 The Salesman (2016)
★★★ / ★★★★
In the hands of a lesser writer-director, "The Salesman" would likely to have ended up as yet another revenge-thriller with an expected catharsis in the end. An argument can be made that this picture is worth seeing exactly because it provides no release of emotions, but it is nonetheless worth thinking about and discussing long after the movie is over.
Writer-director Asghar Farhadi wishes to say something important about traumatic events. Although each incident may vary, I think he means to communicate that trauma is almost never an isolated event. It bleeds, it causes a flood, it takes over the lives of the people it touches. It is a stink that refuses to leave the room. It haunts us when we are alone, in our beds, when we are at our jobs, when we are sitting in the car and it is utterly silent on the outside but a raging storm in our heads. The material captures the brutality of trauma, how it cripples the body and the mind. And yet not once does the movie shows violence explicitly.
The plot revolves around Emad (Shahab Hosseini), a teacher by day and an actor by night, who is compelled to find the man who attacked his wife (Taraneh Alidoosti) in the apartment they recently moved into. Although Rana is relatively all right physically, Emad feels it is his duty as a husband to find answers. We observe him in their home, at school, and at the play before and after the incident. The differences are subtle but informative. We understand the character through his silence and action, not words. Hosseini communicates paragraphs with only his eyes. Alidoosti, meanwhile, matches him with her extremely telling body language.
The picture has an eye for realism. I admired how it takes its time to let scenes unfold—especially those that may not necessarily advance the plot. Notice the extended scene in which the couple moves into their new apartment. It would have been easier to show them having already moved in and simply putting various knickknacks away like in most mainstream American films. Here, we feel a sense of community because we see friends helping to carry a mattress up the stairs; we get a mental picture of the place as the camera goes in and out of rooms; we notice small things like how used their clothes look; we infer about the weather since all windows and doors are open. It captures the insanity, excitement, and exhaustion of move-in day.
I always say that in order for dramas to be effective, the setting must be believable. Here is a picture with such a trait and it is beautiful how the story is told through action but a whole lot more can be learned by looking at the environment of the characters. Because of their worn belongings and the fading colors of their clothing, I began to wonder whether this is a couple that can withstand a horrifying, unfathomable, and ultimately devastating event. But, as in life, there is no certainty.