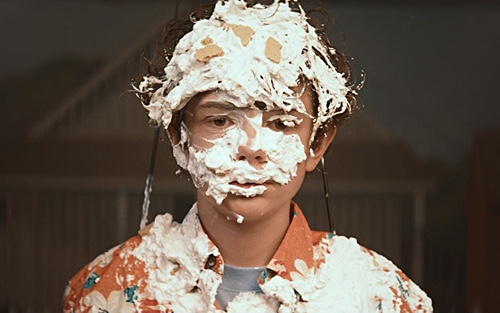 Honey Boy (2019)
★★★ / ★★★★
"Honey Boy" is yet another story about a child who yearns to have a genuine relationship with his father, but what makes the movie special is that it has no qualms about showing reality and relationships as they are. It takes a look at an abusive relationship between parent and child in a way that not many movies are willing to show. The reason is because the screenwriter, Shia LaBeouf, is able to take specific details from his own childhood and harness them, in a way, so that he could come to terms with his troubled past. Coupled with director Alma Har'el's vision and execution, what could have been a generic "therapy drama" is given cinematic language that rings true. Pick any random scene from the movie and notice it is worthy of examination.
Although a personal story, the picture is able to look at celebrity without the glitz and glamour. What better way to showcase this theme than in the opening scene in which twenty-two-year-old Otis (Lucas Hedges) is seemingly blown away by a special effect explosion. (It looks to be a set for the movie "Transformers.") For a second, the job appears to be thrilling and exciting. But when the harnesses and ropes are shown, followed by the director yelling, "Cut!" it looks just like another job. This theme is consistent with twelve-year-old Otis (Noah Jupe), a rising star in Hollywood, living in a seedy motel with his father (LaBeouf).
The work is at its best when simply taking a look at the father-son relationship. It is often sad and unblinking, always fascinating. For instance, Otis wishes to hold his father's hand, but James is afraid to be seen by others as a "chickenhawk." And so every time the boy reaches for his father's hand, the father rejects the notion and walks away. Without relying on words, short but impactful scenarios like these tell us a lot about what the father considers to be more important: his tough guy image over the needs of his son. While in rehab due to an alcohol problem, Otis tells his counselor (Laura San Giacomo), "The only thing my father gave me that was of any value is pain. And you want to take that away?"
At the same time, the emotionally and physically abusive father is never painted simply as an evil figure whose actions are worthy of condemnation. LaBeouf writes the father as a man who loves his son deep down despite how he treats the boy. Perhaps James doesn't know how to show it. Or maybe, coming a long line of alcoholics, showing love in an overt way is not a part of their DNA. James has proven he does not like it when he appears weak or vulnerable. Whatever the case, the writer proves to find it important that James be considered to be a whole person in addition to his flaws. We can hate him but we feel sorry for him, too. LaBeouf plays James with a certain unpredictability; there comes a point when we flinch at the sight of the Otis getting too close to his father when James is clearly experiencing a manic-depressive episode.
"Honey Boy" does not offer easy solutions or typical closures found in dramas of this kind. Instead, it finds a comfortable place in excavating deep empathy and finding that to be enough to warrant telling its story. And for that, I found it to be a refreshing coming-of-age tale of a troubled talent who comes from a background of shame, rejection, and pain.