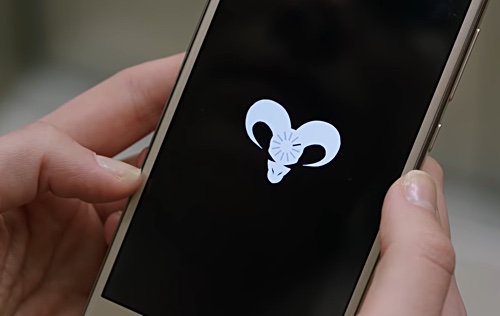 Countdown (2019)
★ / ★★★★
Here is yet another supernatural horror film that takes a specific concept—this time a phone app called Countdown that predicts when a person is going to die down to the very last second—and does nothing special or memorable with it. Comparison to the "Final Destination" franchise is easy but a big mistake, an insult to the series because 1) those films offer rather creative, brutal, and occasionally amusing or ironic deaths and 2) the concept is turned into a minefield of twists and turns. The "Final Destination" films, especially the first two, actually try to be innovative. They're entertaining.
In "Countdown," written and directed by Justin Dec, we sit through highly repetitive scenarios in which an eventual victim almost always ends up panicking because his or her time is almost up, followed by a cloaked figure—often spotted on mirrors—being seen looming in background, and the victim being pushed, dragged, and tossed around by an invisible presence. Cue the neck-breaking and skull-crushing. It is exhausting to sit through because everything is so uninspired.
Dec's idea of what makes a horror film effective is questionable at best. When someone's body is thrown through a glass mirror, it feels like an action movie because of the way it is shot. When a person falls to his death headfirst from a couple of hundred feet, it feels like an exercise of visual effects due to its in-your-face approach to violence. So often the punchline is a person getting hurt or killed. Why? What's the point of it? We might as well just sit through a YouTube video that has compiled movie death scenes from the past fifty years.
Alfred Hitchcock once said, "There is no terror in the bang, only in the anticipation of it." This picture is heavy on the bang to the point where horror flatlines eventually. There are some attempts at humor, however misplaced, which, for instance, involves a priest (P.J. Byrne) who dresses like a priest but doesn't talk or act like one (he has tattoos and he listens to hip-hop—ha-ha, get it?). Father John offers some knowledge about the devils in the Bible and how their stories might be relevant to the app that cannot be deleted. The picture comes alive because Father John's knowledge offers hope against a seemingly insurmountable villain.
The protagonists are neither charming nor interesting. Quinn (Elizabeth Lail), who earned her nursing license just recently, is a bore at home and while at work. When faced with the app problem, she acts like any other person. And so it begs the question why she is our heroine when she herself is unable to think or act outside the box. What makes her worth rooting for? What makes her special? The writer-director fails to answer the most basic questions of creating a character worthy of our attention. He was too busy, I guess, thinking of ways to make a death look gruesome so viewers would flinch at the sight of a neck being broken.