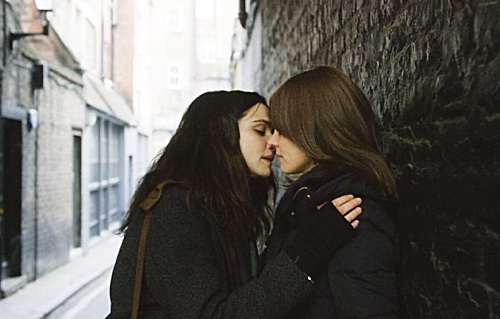 Disobedience (2017)
★★★ / ★★★★
So few films are able to show with crystal clear quality what they are about at just the perfect moment when their respective stories are about to enter their resolutions. In Sebastián Lelio's visually spare but contextually elegant "Disobedience," the scene involves an embrace with no words shared or tears shed, just a common understanding among those involved that life goes on and that sometimes we can choose to be in control of the challenges that befall us. The work is beautiful, occasionally heart-wrenching, and surprisingly hopeful—and it always underlines the humanity of those we meet.
Rachel Weisz plays a professional photographer, Ronit, who returns to her Jewish Orthodox community when her father, a beloved London-based rabbi, passes way. Given that Ronit has been shunned by her community for being a lesbian, it is made apparent her presence is not welcome but one to be endured because she is blood of the deceased. Notice the director's control of the camera as strangers make a laundry list of judgment as they lay eyes on Ronit. It is no accident that numerous sequences involve entering and exiting rooms filled with people as public and private spheres are brought under the magnifying glass.
In a story like this, it would have been far easier to point at a religion and condemn its practices by, for example, exposing its hypocrisies, underscoring its limitations when it comes to exercising one's personal freedom, or highlighting the moral inconsistencies that result from attempting to live a life based on a book that was written hundreds or thousands of years ago without taking into account how life or lifestyles have changed over time. Instead, the film chooses to respect the religion in question not by ignoring how it can hurt others but by providing a character so complex that by the end I wished to know more about him.
Alessandro Nivola portrays Dovid, the main disciple of the fallen rabbi. He is married to Esti (Rachel McAdams), the woman whom Ronit got involved with romantically, certainly sexually, many years ago. Instead of treating Dovid as clueless, the screenplay by Sebastián Lelio and Rebecca Lenkiewicz allows him to evolve. We assume that just because he is a man of faith and continually shows that he values faith above all else, his capacity for feeling or understanding is limited. Nivola plays Dovid with a surprisingly healthy dose of humanity that even when he is at his headstrong, we understand his perspective, why he feels he must fight for what he believes is true—not just because he is pious man but also because he is a husband who genuinely loves his wife. Love can be devastating sometimes.
And so the material takes on several new layers which involves partnership, ownership, and patriarchy. Particularly telling is a scene that takes place at a dinner table with Ronit, Esti, Dovid, along with friends and family of a certain age. Nearly every line is a reminder that Ronit is an outcast not just because she is a lesbian, an unmarried woman for her age, or a daughter who did not stay to take care of her ailing father. No, there is a common understanding she is less than because of her gender. Even the women at that table—even when they choose to be silent—support the notion that men are a tier above.
Based on the novel by Naomi Alderman, "Disobedience" is teeming with information—should one decide to examine it. Its austere look, particularly in how it avoids showing bright colors or employing an ostentatious score or soundtrack, may quickly bore those looking for a traditional form of entertainment. But these are appropriate, you see, because the film is meant to be melancholy, ruminative, a chance to empathize with people who feel imprisoned by their religious communities. The film is about freedom and it reminds us how we take our own freedoms for granted.