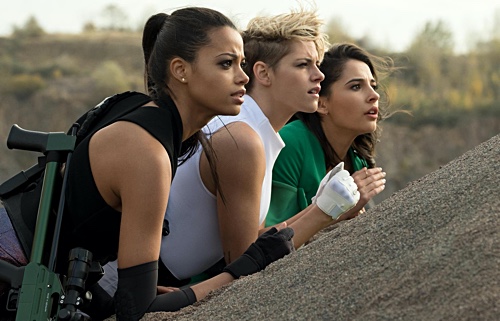 Charlie's Angels (2019)
★★ / ★★★★
A mere fifteen minutes into this generic reboot of "Charlie's Angels," I could not help but wish for the screenplay by Elizabeth Banks to drop the constant, in-your-face, obnoxious, try-hard, and superficial "female empowerment" message and just tell a good story with characters worth rooting for. It is embarrassing that the writing is reduced to a chronic case of ass-licking—for the lack of a better term—of the female gender instead of simply attempting to appeal to all viewers regardless of sex. This trend of "elevating" women by putting down males in the movies is getting old, especially ineffective when the strategy is as subtle as swinging a mallet to the testicles.
It is a shame because I enjoyed the casting of the Angels: Ella Balinska as Jane, the badass former MI-6 agent who copes by compartmentalizing, Kristen Stewart as Sabina, the goofy and sarcastic spice, and Naomi Scott as Elena, the engineer thrusted into the world of international espionage following her decision to become a whistleblower against the shady tech company she works for (Sam Claflin). All three actors bring something fresh and exciting to the table, particularly Balinska who is quite convincing in wearing the physicality that the role demands—a feat because experienced Stewart is capable of simply standing in one spot while doing nothing yet standing out like the star that she is.
Banks also directed the film, but the work fails to rise above its contemporaries. In fact, the approach, it appears, is to blend into them as to be forgotten completely. Pick any action sequence, for instance, and notice how it evokes the feeling of a music video: choppy, the sound tending to overwhelm the images, luxury over believability. While the movie is meant to be escapist, it does not mean that realism must be thrown out altogether. Otherwise, how would we come to believe the more dramatic turns?
Speaking of turns, there are numerous ludicrous twists that fail to make sense, from character motivations (especially the villains), head-scratching plot devices, to how one can so suddenly escape from what appears to be certain death. Eventually, we are trained not to trust what is unfolding on screen because we suspect a twist to occur at any given moment anyway. In other words, the reboot makes the elementary mistake of choosing immediate gratification over inspiring us invest into this familiar world with new characters. It seems that there is a lack of careful thought put into the project; this is a prime example of reliance on branding.
Had the writer-director been more ambitious and thoughtful about the story she wished to tell, "Charlie's Angels" could have appealed to a whole new generation. The star power is there. Even the inimitable Sir Patrick Stewart graces the screen. And one or two of the extended chases—the sequence in Hamburg is a standout—aren't half-bad. While a next installment is inevitable, it would be interesting to see a different filmmaker at the helm, one whose goal is to make a solid and memorable action movie first and foremost—with or without substantive social commentary.