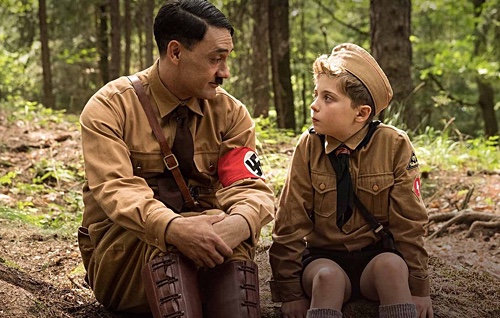 Jojo Rabbit (2019)
★★★ / ★★★★
Leave it to writer-director Taika Waititi to helm a daring comedy surrounding a ten-year-old boy who wishes so badly to become one of Adolf Hitler's soldiers, he is beyond excited that the day has finally come for him to join the German Youngsters of the Hitler Youth. Jojo has got blind Nazism on the brain, his imaginary friend is Hitler himself (Waititi). The satire is sharp, biting, and extremely funny (some might claim insensitive or offensive). And yet—the picture is not simply a parade of amusing gags, which range from recurring visual cues to anachronistic songs or phrases. When it really counts, it takes a serious look at having to wrestle against one's racism, prejudice, and brainwashing. Its satirical jabs command power, but it is also surprisingly emotionally intelligent.
Roman Griffin Davis plays the memorable titular character in a wonderful debut. He exudes charisma and heart; he commits in every dramatic and comic scene as if he'd appeared in an array of projects before. That confidence translates well when he is required to hold a scene against great performers like Scarlett Johansson, who portrays Jojo's mother, and Sam Rockwell, as a Nazi captain in charge of the Hitler Youth Camp. This is not a role in which a young actor can rely on looking cute because the subject matter proves to grow more complex as the story moves forward. I hope that Davis would choose to play equally colorful personalities with substance in future roles.
Perhaps on purpose, the first third of the film does not prepare the viewers for what's about to come. Waititi makes the Hitler Youth camp feel, look, and sound like summer camp—only the children are made to go through militaristic obstacle courses, are given pocket knives and handed hand grenades. These segments are filled to the brim with vivid and warm colors, particularly yellow and green, and there is an exciting, anything-can-happen attitude in the air. In every scene and in just about every other line of dialogue, there is either a sight gag or a joke thrown on our laps. A few people might consider the gags or jokes to be offensive—and that is what makes the work a good satire. It's not safe.
Fast-paced with seemingly a plethora of ideas to spare, the work confidently moves toward a more solemn tone just about halfway through. Its point is to show that Jojo's desire to belong in a white nationalist hate group and kill Jewish people has dire consequences. When they finally come around, it is a like a punch in the face and a kick in the stomach. I admired that even though the work is a satire and its main character is a child, it remains willing to show the evils of the Nazis. The easier choice would have been to show the mother telling his son that being a Nazi is wrong. The writer-director is correct to choose the more cinematic choice: to show how and why fervent antisemitism is a moral corruption, a cancer.
Another strong aspect of "Jojo Rabbit" is the relationship between the boy and the Jewish girl named Elsa (Thomasin McKenzie) who is hiding in the attic. Their connection is handled with subtlety and insight with an occasional dose of cuteness—never hammy or syrupy. Their friendship is never about romance but reaching a common understanding. In lesser hands, the two young characters would kiss and everything would have turned out all right. But in this film, war has costs. And some costs you can never take back.