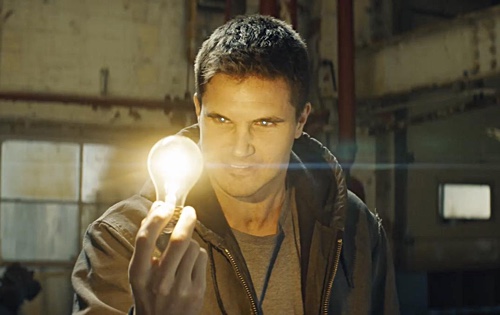 Code 8 (2019)
★★★ / ★★★★
At one point in the film, a young girl asks her father if she was going to be given away because she has started to exhibit superpowers. It is, after all, the pattern she sees on television: Those with supernatural abilities are feared and so the non-Powered do what they can in order to maintain their superiority. This is the universe of "Code 8," based on the story and directed by Jeff Chan, written for the screen by Chris Pare, an ambitious sci-fi action-drama that takes risks. It is willing to put the humanity of its characters on the forefront and the flashy special and visual effects serving as support. What results is a work that may not be A-level adrenaline-fueled non-stop action, but it is nonetheless good entertainment for those who crave a different approach in telling a familiar story.
In a fictional city that brings to mind diverse Los Angeles, Connor (Robbie Amell) decides to take a job with a group of thieves (Stephen Amell, Laysla De Oliveira, Vlad Alexis) who serves under a drug lord (Greg Bryk) in order to get quick surgery money for his dying mother (Kari Matchett). Connor is considered an Electric due to his abilities and so he proves to be most critical in high-stake heists. Notice how we spend nearly equal time with Connor and his mother as well as Connor and his newfound team. And before we see the first job executed, we are provided crystal clear reasons, overt and subtle, how the protagonist is driven to financial desperation. And so despite the fact that he is working for the bad guys, and in some ways he, too, is a bad guy, we root for him and the no-good bunch to get away with their plans. We have an appreciation of Connor's personal and professional lives, so we cannot help but to feel invested.
There is a certain irony to some of the abilities we come across. For instance, it is fresh that a character with super strength turns out to be a mute—loud in action but silent with words. Under the hands of a writer with lower level imagination, the material could have been just another action flick with characters who happen to have superpowers. Instead, I felt as though Pare is a big fan of the "X-Men" comics. Right from opening credits, for example, there is already commentary regarding left- and right-wing attitudes toward illegal immigrants. Within ten seconds, the work is able to communicate that it is going to be an Us versus Them tale.
It is the correct decision to keep special and visual effects at a minimum—as impressive as they are. I enjoyed that the police employ magnificent drones and how robots are utilized as tools for the frontline. Although created by technical wizardry, we have feel the weight and power of these machines. When robots jump from the drone and land on the street, they wield a fearsome presence. And so when a Powered decides to run, it is a survival response that makes complete sense. How can you go up against something seemingly indestructible and utterly unfeeling? The action scenes are calculated, used sparingly but effectively.
Relationships among the many colorful characters are not explored enough. Connor and Garrett, the leader of the thieves, are provided a sort of student-teacher connection, but the idea is thrown away just as quickly. It is expected that the student surpasses the teacher eventually, especially in a story of this kind, but we are not given that potentially important arc that leads to catharsis. Another potentially interesting angle is Connor's bond with an unexpected Healer. The latter serves as a reminder of the former's humanity, but their connection is quite lukewarm. These two examples do not take off in terms of meaningful character development—which drags down an otherwise terrific movie.
Some may claim that ideas overtaking action in sci-fi action picture is a handicap. I disagree; I would rather have ideas shine brightly than to have to sit through another loud, endless parade of noise with no nourishment for the mind. "Code 8" takes familiar superhero tropes and shakes them a bit. In parts it reminded me of Tim Kring's wonderful first season of the TV series "Heroes." I believed its universe and by the end I wanted to know more about the broken characters who lived.