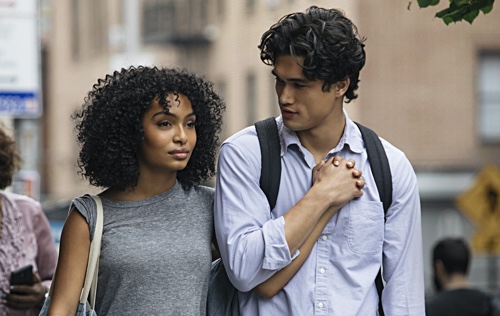 The Sun is Also a Star (2019)
★★ / ★★★★
Daniel (Charles Melton) the poet believes in love, but Natasha (Yara Shahidi) the aspiring data scientist reduces the idea as molecular interactions occurring in the brain. So a proposal: Over the course of a single day, Daniel would prove that love exists by getting Natasha to fall in love with him—despite the fact that they had met less than an hour ago. It goes without saying that "The Sun is Also a Star," based on the novel by Nicola Yoon and adapted to screen by Tracy Oliver, proudly wears its heart on its sleeve. Naturally, love must win in a story like this. After all, the target audience is young adults who believe deep down that love is the great solution. But the real question is this: Is the journey to that conclusion worth it?
I don't believe it is. The material does not provide good enough reasons why Natasha and Daniel are worth following together or apart. It isn't the performers' fault: Shahidi and Melton share good chemistry even though not a single person will be convinced that they are portraying high school seniors precisely due to their looks, how they carry themselves in movement, and how they appear to be much wiser than the words on the script. When the camera goes for the close-up, the pair hit their marks and are able to provide the necessary emotions in order to create at least a semblance of conflict that the screenplay fails to provide.
This is bizarre because the movie is strangely plot-driven despite the fact that its story unfolds over twenty-four hours. Natasha's family is set to be deported to Jamaica the day after unless she is able to find somebody who could put on hold or reverse a judge's decision. Meanwhile, Daniel, son of South Korean immigrants, is scheduled to attend an interview with an alumnus from Dartmouth University so that he could get a letter of recommendation. His parents have chosen for him to become a doctor, but he wants to be a poet. Natasha and Daniel's chance meeting—or is it destiny, as the film argues?—fails to become thoroughly involving because we are often reminded of the time. Is Daniel late for that all-important interview? Are Natasha's parents getting worried back home because she still hasn't packed her belongings?
In addition, you can bet that every time the potential lovers arrive at a new spot and sit down, a would-be compelling revelation is about to thrown on our laps within two minutes. On the surface, these life lessons come across as wise. But think about it: If the person imparting these pieces of knowledge has been aware all along, then why is he or she still written as conflicted? Thus, the drama is a sham. The screenplay defies reason and common sense so credit goes to director Ry Russo-Young for still being able to maintain our interest at least some of the time.
I enjoyed looking at the movie. It is earnest and pretty. We see different spots of New York City even though the place is filtered through the lens of a fantasy. (In reality, NYC is grimier, louder, and a whole lot busier.) But the way it is shot serves the romantic nature of the story. And I did enjoy the actors; I wish for more people of color leading in romantic films. But the screenplay is all over the place, without question too saccharine for its own good. There is a compelling story about assimilation buried here. But the screenwriter couldn't be bothered to excavate it.