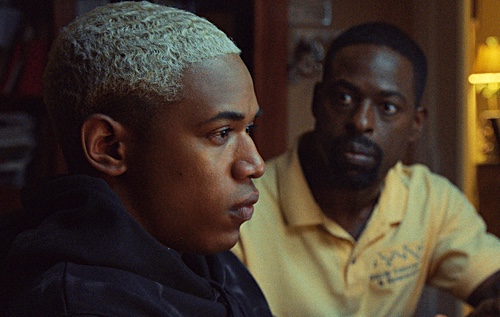 Waves (2019)
★★★★ / ★★★★
Here is a film for teenagers that does not make the mistake of condescending to its target audience. Put this right alongside commercialized coming-of-age films meant to capture how it is like to be a high school student in modern America and it shines—so brightly in fact that most of its contemporaries would fade into the background. The reason is because writer-director Trey Edward Shults is not afraid to show real consequences. In this movie, conflict is never solved by delivering rousing speeches or grand gestures in front or a crowd with an upbeat soundtrack playing in the background. It requires its subjects to stop, to be silent, to go deep into contemplation, and to really push themselves to make a change. It's not easy.
The story takes a magnifying glass on Tyler (Kelvin Harrison Jr.), a senior wrestler with an excellent chance of earning a full college scholarship. He has one more season before graduation. In the opening minutes, we observe his daily routine, how he pushes his mind and body to their absolute limit. His father, Ronald (Sterling K. Brown), ensures that he does. And should Tyler ever strays from that path, even for a second, Ronald is there to correct the mistake of his son taking his eyes off the prize.
It is easy to jump to the conclusion that the father domineering, but the beauty of the screenplay is that it plays fair with all of its main characters—even the stepmother (Renée Elise Goldsberry) who is less in control when it comes to discipline and the sister (Taylor Russell) who is present but has more of an observant role. There is no one-dimensional character here and all of the actors deliver layered and textured performances.
What I loved most about the picture is its willingness to show its subjects in real pain. I am not referring to characters simply responding to superficial conflicts required by the plot. The writer-director allows his characters to express how they feel on their own time with little regard to pacing. Most of the time, words are utilized to communicate. Notice how the dialogue flows, how words employed sound natural. But when an emotion is so painful, so frustrating, so unimaginable, still, Shults is there to capture his subjects' misery. At times one finds himself or herself so helpless, there is little left to do other than to let out a wail or a whimper.
I think people whose families have undergone great crises will relate to this film—not because of the plot but because of its emotional and psychological landmarks, specifically traumas that stem from staring at crises in the face and enduring. One of the themes involves an action having a significant ripple effect, how one action is able to excavate issues laying just underneath the topsoil. Clearly, the story is not just about an African-American high school student who feels extreme pressure to perform and achieve success. It is about family dynamics and how each member influences one another. The work is not interested in blame, simply observation.
The structure of storytelling when it comes to coming-of-age movies rarely surprise me because most tend to follow a similar formula. "Waves" surprised me, but I will not detail why. I will leave it to you to experience and I hope it will also take your breath away, just as it did mine.