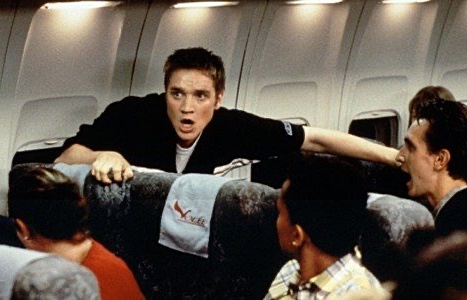 Final Destination (2000)
★★★ / ★★★★
James Wong's "Final Destination" takes the idea of Death coming for souls whose times are up and commits to it all the way. It is not just another Dead Teenager Movie because the concept is explored quite seriously but at the same time the manner in which the victims die is so elaborate and so creative, entertainment is created from a rather grim premise. The material does not need to wink at the audience in hopes that viewers might recognize references from other works that came before. Nor does it need to poke fun of teen stereotypes. The filmmakers are confident that their work is strong enough to forge a path of its own.
Instead of barraging us with gruesome deaths, the screenplay by Glen Morgan, James Wong (who also directs), and Jeffrey Reddick takes its time to establish a sense of foreboding. Where better to start than with Alex (Devon Sawa), a superstitious high school senior who, while still at home, already senses that something might go awry during their flight to Paris. Something about keeping the stickers on the bags. We look at this character and recognize he's just a tad ridiculous. But Sawa plays him with a straight face throughout and eventually we grow to like the kid even though Alex always seems to be in the wrong place at the wrong time.
The killer opening sequence aboard the soon-to-be doomed Flight 180 is executed with a certain eerie energy and excitement. One could tell immediately that plenty of thought is put into where the camera is placed when the mood is calm and how the camera moves up and down the aisles when panic begins to take hold. The approach is almost clinical—and it must be because remembering where people sit, for instance, proves to be important during the latter events of the story. From minor turbulence to the terrifying final explosion, this plane sequence is a wonderful exercise in suspense and horror. Viewers tend to remember this movie because of this scene alone; it shows how the entire experience will be like.
But because the bar is set so high early on, a few of the deaths that befall the remaining seven "lucky" survivors fall short by comparison (Sawa, Ali Larter, Kerr Smith, Kristen Cloke, Seann William Scott, Amanda Detmer, Chad Donella). I enjoyed, however, that there is variety in the approach: some meet blink-and-you'll-miss-it ends while others experience extremely painful and slow passing like being choked to death in the bathtub. Most haunting are those in which we hear a character's final breath. The camera lingers for a beat or two and it works.
"Final Destination" introduces a formidable villain: one that cannot be rendered incapacitated by hitting it with a bat or a wrench, one that cannot be stabbed or shot dead. Nor can one run over it with a truck or speedboat. It can be outsmarted… but only for a while it seems. The premise captures the imagination. Notice there is no subplot to distract. Supporting characters are kept at a bare minimum. It simply takes one concept and plays with it enough in order to earn and maintain our attention from start to finish.