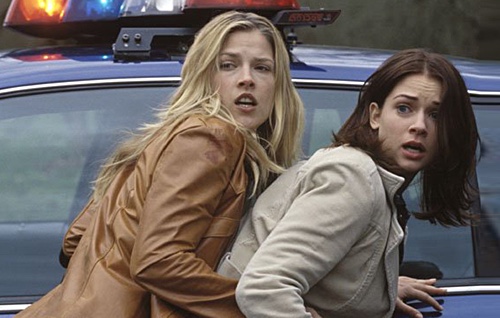 Final Destination 2 (2003)
★★★ / ★★★★
It doesn't try so much to outdo the original in superficial ways. Instead, David R. Ellis' worthy sequel to "Final Destination" respects its predecessor by taking ideas from the source, expanding upon them, and then—this is key—introducing new wrinkles for us to examine. Most of the time sequels attempt to outdo the original in this way: increasing the body count, amping up the violence, and intensifying the gore. While this installment does exactly these things, I counted three twists (which I will not reveal) that play upon what we already know: Death will be coming after the survivors of a freak accident, this time involving a pileup on the freeway.
Viewers will remember this film for the logs falling off a truck which then triggers a chain reaction of sheer, unadulterated mayhem. It is a wonderfully brutal opening scene, almost the exact opposite of the impressive first scene of the film that came before. In the original, our characters are in an enclosed space and we watch the order in which they die following an explosion. The approach feels rather clinical. This time, however, characters sit in their own vehicles while in motion. The method is entirely different. Editing is more pronounced, more purposeful, more confident. It functions on a higher kinetic energy. Blink for a spit-second longer and one is likely to miss a bone-crunching, skin-melting death. It is a wreck one cannot—should not—look away from. Because in this movie, the order of death still matters.
A.J. Cook is Kimberly, a high school student on a road trip with her friends. She is the seer, capable of experiencing premonitions that could cheat Death's plans… at least for a while. Cook plays the character with utmost conviction, but I never felt as though there is much fight in her. Thus, it is the correct decision to bring back Ali Larter as Clear, one of the survivors of Flight 180 in the former picture. Larter chooses not to play her character as the mousey type this time around. And so we believe Clear has endured hardships that took place after the first movie. It is an interesting decision by screenwriters J. Mackye Gruber and Eric Bress to divide likability and strength between two characters. In horror films, especially splatterfests, one main character, usually female, possesses these two attributes. I appreciated the difference.
Here is a movie in which the violence paralyzes you. Twice or thrice I caught my jaw drop following a spine-chilling death scene, whether it is someone bring crushed by glass or a person bring sliced clean by barbed wires. I think it is because these death scenes almost always possess a dramatic parabola: the set-up, the false alarm, the climax, the resolution, the irony. Although we do not get to know any character in a meaningful way, the grim sense of humor is so sharp, the material is constantly pushed forward. In modern horror movies, it is uncommon for me to feel like I'm constantly trying to catch up to the screenplay.
"Final Destination 2" offers a good time. The script may be a weak point, but the sheep to be slaughtered are not meant to be articulate. It is all about the craft from behind the camera, the complex but clear choreography in showing the cause and effect of actions (or inaction) of doomed characters, and the breathless pace of a horror picture with numerous surprising ideas. It doesn't always have to be about the blood. So it holds up upon repeated viewings.