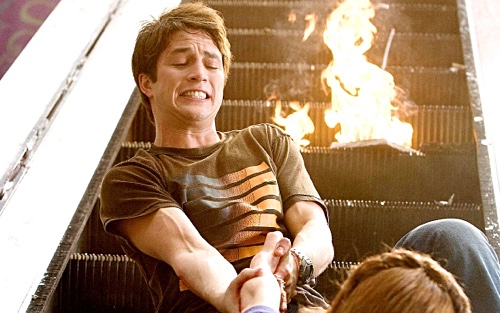 The Final Destination (2009)
★ / ★★★★
It is apparent that "The Final Destination" is a product of its time, when it was considered "cool" or "hip" to have objects thrown at you in 3D. The fourth entry in the series is the most exhausted and uninspired—surprising because Eric Bress, the screenwriter, and David R. Ellis, the director, also helmed the far superior "Final Destination 2" which is filled to brim with memorable deaths and joyous twists. What is left here is scraps, eighty minutes of laughably bad dialogue, boring death scenes with minimal setup, and characters that are either dull or offensively cliché.
This movie has the nerve to flaunt an opening credits that references previous death scenes in the series. It is almost like a dare for us to compare them to what this picture has to offer—and the competition is not even close. Here, it is obvious that far too much CGI is utilized to the point where, for example, when someone gets impaled by a metal rod through his chest, it does not feel horrifying or shocking, just fake. This approach persists throughout the work, and it is amazing that nobody spoke up and claimed that none of the images on screen are effective. Instead of offering an experience, it becomes a vehicle for special and visual effects.
Here is a first in the series: a completely forgettable premonition sequence. The previous movies really take the time to introduce every element that must come together in order to deliver a jaw-dropping accident (or "accident"—depending on how you see it). There is a sense of timing, patience, a feeling of eeriness and certain doom. We get terrific terrorized reaction shots from those experiencing visions of the future. But in this film, all of these positive qualities are thrown out the window. Why?
We witness multiple crashes in a racetrack, but we don't feel invested in the pandemonium because it all happens so quickly. Showing a crowd running away, screaming, and causing a stampede is not right in a movie like this. In the predecessors, there is a reason why we are stuck in one place with the characters—a plane, a freeway, a roller coaster—it is meant to create a sense of claustrophobia. These are places we often find ourselves in. The message is made literal: There is no escape from death. Who goes to a racetrack?
Furthermore, it does not help that Bobby Campo, who plays our protagonist Nick, is not a highly expressive performer. Compare his wooden performance to Devon Sawa, A.J. Cook, and Mary Elizabeth Winstead from the first three "Final Destination" films, respectively, and the difference is night and day. I felt as though Campo was half-asleep while filming his scenes. Maybe it is not entirely his fault. It is the director's job to review a scene, note what does or doesn't work, and execute the necessary changes. Many scenes here require reshoots due to flat performances, main and supporting alike. At one point, I wondered whether the cast and crew were on an extremely tight schedule. One cannot help but get the impression that something—anything—simply needed to be shot and submitted, to get it over with.
It goes without saying that "The Final Destination" offers a depressing, disposable experience. A part of me is glad it isn't officially named "Final Destination 4" because the work overall is an embarrassment.