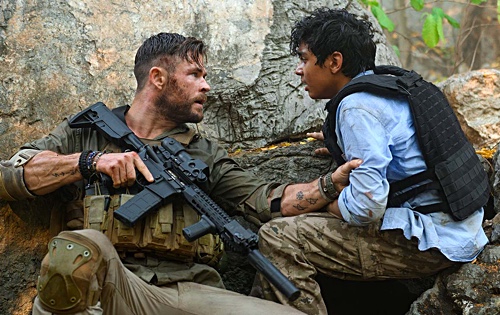 Extraction (2020)
★★★ / ★★★★
First-time director Sam Hargrave helms an action-thriller so kinetic and breathless, clichés and tired tropes are overshadowed by sheer entertainment value. The premise is familiar: A group of mercenaries is hired by an imprisoned drug lord's right-hand man (Randeep Hooda) to rescue the drug lord's teenage son (Rudraksh Jaiswal) from a rival crime boss (Priyanshu Painyuli). But there is a catch: the former drug lord's assets are actually frozen and so it is impossible to pay the mercenaries in full. Former Special Forces Tyler Rake (Chris Hemsworth) finds his team dropping like flies just when the mission is about to be completed. The action doesn't stop from here—which will impress those looking for adrenaline-fueled shootouts and hand-to-hand combat.
Most impressive sequence involves an extended tracking shot—beginning from the streets of Dhaka and ending under a bridge. Multiple techniques are employed to create an illusion of an unbroken shot and it is convincing enough. As men pummel one another to deliver jaw-breaking violence, it becomes clear that a lot of thought is put into how to make the action both realistic and beautiful. I enjoyed how there is a certain rhythm when the action must change from trading bullets to using fists, vice-versa. It never makes the mistake of communicating that violence is just all for fun. In fact, there are a number of shots that underline how painful it is to be hit by the buttstock of a rifle, to be choked to death, to receive a bullet in the shoulder. It shows, too, that it is not pleasurable to use your own fists to break someone's face. Although the action entertains on the surface, the seemingly cartoonish violence is not without consequences.
A sense of humor is not absent either. Crowded streets and tenements contain hundreds of extras—look closely and notice how excited they are to be in a movie. There is a joke about running people over. How supposedly powerful drug lords glare intensely, so far away from the action, when things do not go his way. No one is forced to wink or smile at the camera simply to create low-hanging humor. No buddy jokes despite the ex-soldier having to hang out with a teenager for about half the picture. It is one of those films that you feel the filmmakers having a good time in making their movie, so they needn't try so hard for a sense of goodness to come through. This is a quality I don't see often in action films. It just wishes to create a good time and there's nothing with that.
There are moments of deeper meaning which I wished screenwriter Joe Russo delved into a bit more. While in short-lived shelter, Tyler and the boy, Ovi, get a chance to talk to another. Naturally, the teenager is curious about his rescuer. Ovi's questions revolve around Tyler's lifestyle—not how exciting or thrilling it is but how lonely and soul-crushing it must be. Despite all the complex action sequences, a conversation between man and boy is actually the center of the film. And rightfully so. When we meet Tyler, he hides a sadness, guilt, possibly even anger. His animalistic rage is revealed at times when he is pushed to a corner by men who wish to kill him. In this critical scene—a silent scene—between Tyler and Ovi, much is revealed about our protagonist—and the beautiful details do not require words. It is without question there is a heart and brain in "Extraction."
Those who wish to focus on the big picture—and only the big picture—will claim that the film is composed merely of a series of stunts. I just showed above how this assertion is inaccurate. But taking this type of criticism as is, I then ask, "So what?" It doesn't require special glasses to realize that these stunts are well done. There are stakes to the action unfolding. And we get to see another part of the world that's not Chicago, or New York City, or Los Angeles, or (insert European city here)—a place that big action blockbusters seldom visit.