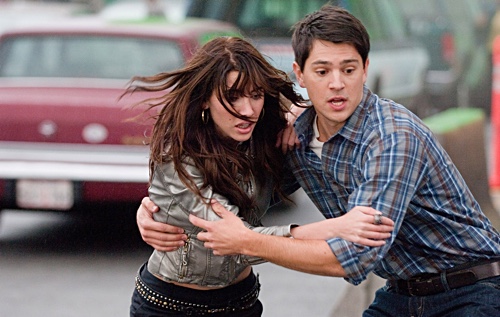 Final Destination 5 (2011)
★ / ★★★★
Although now in the hands of filmmakers who have not helmed a "Final Destination" feature, director Steve Quale and screenwriter Eric Heisserer fail to inject freshness to the fourth sequel of the franchise. Instead, it follows the same stagnant formula: a shallow introduction of the characters, a premonition sequence involving gory deaths due to calamity, a funeral scene, one of the survivors from said tragedy dying in a bizarre way, second and third deaths immediately following, and the remaining survivors figuring out that Death is coming after them in the order that they die in the premonition—boring; we've seen it all before. A strong argument can be made that this movie is essentially the first "Final Destination" only with different actors.
It is given one twist so pedestrian, it digests like a bad joke. A returning character, the portentous William Bludworth (Tony Todd), claims that in order to defeat Death, a survivor must kill another person who is not meant to die—to balance Death's books and all that. Now, I have seen the previous four movies and there is not one hint that this course of action could potentially work. The material runs with this idiotic idea and so the final act is reduced to a person wielding a gun and chasing other survivors—as if the picture were an action-thriller. It shows that Heisserer possesses no understanding of what makes the premise of the series stand out from other horror movies. Clearly, this is a work without purpose or inspiration.
Overall, it is an improvement from the awful "The Final Destination" (the fourth installment in the series)—but not significantly better. The opening tragedy involving a bridge collapse actually takes its time to unfold even though in some of the more ostentatious deaths look like too much CGI was used. Nicholas D'Agosto as the seer Sam is tolerable, but his character is not given much to work with. Sam is the standard nice guy who wishes to settle down with his girlfriend and so he is willing to put his dreams on hold just so they could be together. (Yawn.) Compared to the other survivors with more pronounced personalities (cardboard cutouts played by Miles Fisher, Jacqueline MacInnes Wood, and P.J. Byrne), Sam is a bore. Halfway through, I felt D'Agosto wanting to do more, but the writing has already proven to be painfully unimaginative.
There is one inspired death sequence that takes place in a medical facility. One of the survivors wishes to get laser eye surgery because she deems that life is too short for her to miss anything. Irony begins from the moment she steps into that building and, well, whatever happens afterwards. I cringed—and I think most people do, too—at the idea of being stuck in a chair, eyelids being forced open by a metallic apparatus, as the laser activates without a trained professional in the room. This scene is executed with so much energy and dark humor, it made me wish the entire movie functioned on this level. But it is a steep downhill trajectory after this brilliant scene.
As of this writing, there has not been a follow-up to "Final Destination 5" which I think supports claims that the series has grown so stale. It is an embarrassing entry not because it follows a formula but precisely because it has failed to move the formula in any interesting direction while remaining loyal to brand. Perhaps if the writer and director actually revisited "Final Destination 2," they might have stood a chance at making a solid movie because that first sequel successfully expanded upon what worked in the original and made Death a more sinister figure.