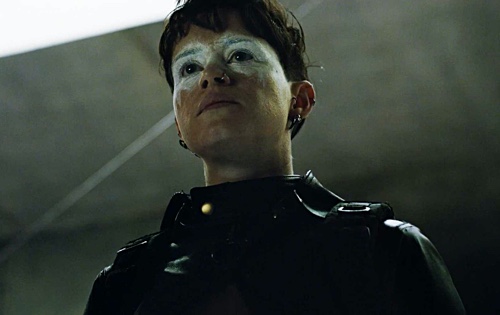 The Girl in the Spider's Web (2018)
★★★ / ★★★★
Yes, "The Girl in the Spider's Web" is a cold and impersonal action-thriller. Given that four films have been released prior, it assumes that the audience already has a basic idea of who the protagonist is and what she is capable of. This gives a chance for director Fede Álvarez, who co-adapted the screenplay with Jay Basu and Steven Knight from David Lagercrantz' novel of the same name, to present a story in a way that breezes through the usual character introductions and quickly get to the conflict that is specific to this installment. On this level, it works.
This time, vigilante hacker Lisbeth Salander, punisher of men who mistreat women, is played by Claire Foy. Her portrayal is a welcome change from Rooney Mara's nearly impenetrable enigma. Foy may not be as tough physically as Mara and Noomi Rapace, but I found her interpretation of the character to be strong by comparison given that she has more range when it comes to delivering the necessary and appropriate emotions under certain turn of events. And because the plot is tethered to Salander's painful and traumatic childhood, a performer with a more believable and relatable emotional range is preferred. The paradox is interesting: there is a softness to Foy that shines through the masculine look of sporting a mohawk, wearing a leather jacket, piercings, tattoos, heavy cosmetics, and stealing a Lamborghini.
Rising action and climaxes are slick and suspenseful. Five groups wish to have their hands on Firewall, a program developed for Americans that is capable of breaching and taking control of nuclear codes—including those of other nations. Each faction's motivation is presented in a clear and precise manner; so although the pacing is unapologetically swift, those willing to pay attention and focus on the chess pieces moving across the board will likely be able to follow the sudden and occasionally violent left turns. Notice that each explosion or shootout is preceded by patient build-up such as observing from afar or masked trigger-happy henchmen being captured on digital cameras.
An area of improvement is Salander's relationship with Mikael Blomkvist (Sverrir Gudnason). While I appreciated that the script does not rehash their past, the material fails to move their professional relationship in a forward direction. Attempts are made, like Salander trusting Blomkvist with a child prodigy's life (whose father, played by Stephen Merchant, is the creator of Firewall), but they barely say more than five lines of dialogue to one another. Perhaps we are supposed to extract information from the heavy silence between them, but this technique only works when the work is largely character-driven and there is an evolving trajectory in the characters' connection.
I found "The Girl in the Spider's Web" to be captivating because it is unlike so many generic American action-thrillers where action comes first and thrills are secondary. Here, we get the impression that chase, the tease, is more important than extracting entertainment from violence. And when it does lean toward the latter, particularly in the third act, the change is welcome.