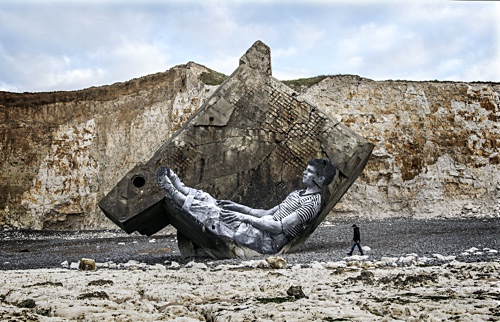 Faces Places (2017)
★★★★ / ★★★★
Legendary filmmaker Agnès Varda and muralist JR (a pseudonym) travel across rural France to paste enormous photographic portraits on various surfaces: a brick wall, a passageway of a factory, a water tower, a barn, a bunker, among others. Each portrait is meant to capture and reflect a particular place's people and way of life. It is a beautiful documentary, so full of life and energy, humor, and truths, occasionally painful, about how we perceive people, how we interpret art, and how our relationship with our own selves change over the years. It is perhaps chance that Varda and JR, co-directors of "Faces Places," cross paths and decide to work together, but it is no accident that their over fifty-year difference in age serves as the soul of the project.
It is the kind of picture that is certain to make the viewer feel good. For instance, one of the stops involves meeting a woman named Jeanine who is the sole resident along her street. The houses are meant to be destroyed eventually but she insists on staying not only because it is her home, it also her ancestors'. The village is made up of miner families, you see, and its strong history can be felt from the way people of all ages recall their fathers, grandfathers, and great-grandfathers coming home from an excruciating day at the mines. At first glance, it looks like any old place. The film has a way of peeling away the metaphorical surface by, ironically, putting photographs on literal surfaces. No word is necessary when members of the community look up to giant pictures and the camera captures their raw thoughts and emotions.
In nearly every destination the picture works like this. We learn about a farmer who owns a 2,000-acre farm… and he works by himself. We go inside of his tractor and appreciate the technology that allows him to accomplish the monumental task of taking care of his farm by himself on top of other contract work. At times the visit lasts only between five to ten minutes and within this time span we not only gather surprising information but also have an appreciation of the subject's way of life. It is a work that loves people of all ages, not just their portraits. Look at the way the camera transfixes on old people's faces. It forces us to look at their wrinkles, the bags under their eyes, and the experiences behind them. And then note how it captures the expressions of energetic youths as their giant photographs are printed from a truck. You can tell they have never seen anything like that before; for them it is magical.
The work, too, is not afraid to show truths about its subjects. With Varda, a lifelong photographer of both still and moving images, it shows she has an eye disease. She claims that images are blurry and they tend to move even when they actually aren't. We observe her getting a check-up. With JR, it acknowledges how he grew up with old people which ties into his attitude toward them. Varda and JR share wonderful chemistry; they are so comfortable with one another that eventually there is a recurring request from Varda for JR to take off his sunglasses. He finds a way to avoid it nearly every time. It is a part of his costume, his disguise. Why is it that he feels the need to hide his name from the world? Is it solely due to an artistic choice or something else?
I found the picture to be most compelling when it deals with the topic of mortality. The recurring theme is memories and how each place is defined by those who inherited it. Yet the residents we meet do not give the impression that they are shackled by traditions or old beliefs. They are simply playing the hands they are given. A lot of them seem to be happy and willing to share their own stories. When asked about death, Varda's response surprised me. Her quote (which I choose not to include here because I urge you to see the picture, if you're even remotely interested in it) is my exact attitude about death. Ironically, for some reason, it made me feel less alone.