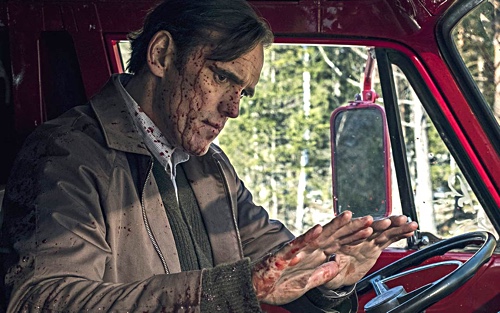 The House That Jack Built (2018)
★ / ★★★★
At one point the viewer is forced to wonder the point of what Lars von Trier is trying to make because his psychological horror film goes off on numerous tangents—at times at the cost of the story's momentum—that the work comes across lacking in focus and discipline. On the surface, it is about an engineer with an obsessive-compulsive disorder who just so happens to be a serial killer. Deeper, I guess, is a rumination surrounding a subject who is born evil but his actions are human and therefore flawed. And these imperfections are peppered with darkly comic moments—occasionally during the murders themselves. It is a movie for me, but I found only minimal enjoyment, entertainment, or value out of it.
One positive quality is the solid performances. Matt Dillon is front and center as the titular character who considers himself to be so smart and polished that later on Jack gives himself the serial killer name "Mr. Sophistication." However, throughout the five incidents he recalls, which spans over twelve years, he may consider his victims as dumb and stupid—many of them caucasian women—but his actions reveal, too, that he himself is not as intelligent as he believes he is. Throughout the years, there is growth in the character's level of violence and elaborate killing sprees, but he tends to make similar mistakes, particularly in the risk-taking of possibly getting caught. Dillon plays Jack with charm and sense of humor; the camera loves his face but there is not a second in which we doubt that the subject is pure evil.
Two actors match Dillon's energetic performance: Uma Thurman as a woman who asks Jack's help when her vehicle broke down and Riley Keough as Jack's girlfriend with whom he confesses that he is in fact Mr. Sophistication. She does not believe him and laughs. Two different performances: the former acting as though she is in a satire (the character keeps going on about serial killers) and the latter in an independent drama (she mumbles a lot and lets her eyes do most of the talking)—both approaches work because it shows that Jack can be adaptable as a hunter. It is necessary that we observe him interact with a spectrum of personalities so that we believe that he can actually entrap and eventually murder 60 people in a span of twelve years.
Nearly everything else about the picture is less compelling. Particularly boring are the side conversations between Jack and Verge (yes, the iconic Roman poet—played by Bruno Ganz) as they make a literal descent to Hell. Their exchanges are neither interesting nor possessing a high enough energy to mask their words' emptiness. I felt no connection between the actors as well as their characters. Worse, their dialogue reveals nothing new about the subject and so the whole charade feels like fluff, padding—problematic because the work is nearly two and a half hours. The film tests the patience.
There are times when the violence is meant to be satirical, particularly the third incident in which Jack decides to "play" with children by shooting them down like animals. Murdering children for fun (one of them ends up being "preserved" in a cold room) is as dark as it gets, but it does not work here because the screenplay has not yet provided enough details about the central character so that we 1) have an appreciation of Jack's actions which may hint at his own childhood and 2) are able to chuckle at the ridiculousness of it all. Context matters and with von Trier, when not at his full power, he tends to go for shock value over providing deeper or insightful content—as is the case here.