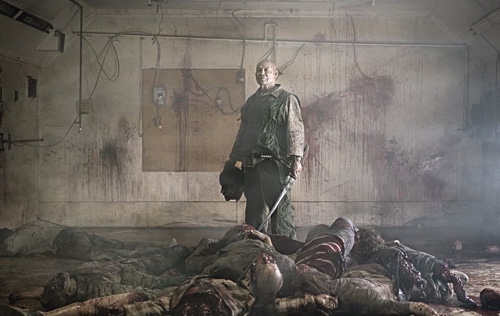 Blood Quantum (2019)
★★★ / ★★★★
"The earth is an animal. Living and breathing. White men don't understand this."
Writer-director Jeff Barnaby offers a fresh take on the zombie subgenre by centering the story around a community of indigenous people in Canada. It works as a strong commentary on colonialism, but it is also savagely entertaining, filled with beautiful and haunting images of barren post-apocalyptic landscapes, of animals infected with an unknown virus, and of diseased and dying people. Unlike its contemporaries, particularly American undead pictures, it does not go out of its way to make stabbings, slashings, and beheadings particularly exciting or thrilling. Often the act of taking a life—dead or undead—is sad, poetic, a thing that must be done for the greater good.
Right from the opening scene we are presented a curiosity. An old man (Stonehorse Lone Goeman) guts fish he had taken out of the water. Nothing strange or new, just another peaceful day. Or so it seems. The fish appear to be dead on the platter… until they begin to move, subtlety at first then breaking out into horrifying convulsions. This perfectly sets up how the story will unfold, and Barnaby tackles the material with an expert level of control and confidence. He wastes no time introducing the characters while proving he has an ear for quiet and thoughtful dialogue. All of this is handed to us in under fifteen minutes. Barnaby is one to watch.
One of the characters we meet is Traylor (Michael Greyeyes), a local sheriff in Red Crow Reservation whose two sons, Joseph (Forrest Goodluck) and Alan/"Lysol" (Kiowa Gordon), have just been taken behind bars. We learn that the two brothers are estranged and the former wishes to get to know the other better. The latter is angry toward his father but for reasons that are murky. We can surmise, however, that Lysol feels abandoned. He dares not admit to it, but he is eyes scream the fact he jealous of his younger sibling. Surrounding this family drama, one that is never syrupy or melodramatic, is an awakening of a pandemic. We hear over radio that there are increasing reports of bites and that ambulances have been unavailable for the past couple of hours. Some who have called for help are still waiting for medical attention hours later. Soon we get to see why.
Although told elegantly with rich context and subtext, the work is not above delivering B-movie violence and gore. The aforementioned fisherman wields a sword like a dauntless samurai. We meet a man with an imposing presence who prefers to use a chainsaw to defend himself against hordes of zombies (Brandon Oakes). Naturally, Traylor the cop prefers guns even though it is loud and attention-grabbing—the opposite of his personality. The screenplay possesses a wicked sense of visual humor, too, like how the upper torso of a zombie hangs out of a window held together only by its own intestines or how certain angles of limbs that have just been chopped off look laughably fake, doll-like, mannequins.
There is an antagonist that emerges later on whose big picture reasoning makes sense but specifics are muddled. I found this to be a weak spot of the picture because his arguments are not thoroughly laid out in such a way that we are compelled to root for him, too. Instead, he is eventually reduced to a sort of mad figure who spouts nonsense.
In essence, he argues that it is not a good idea to rescue people without proper restrictions. Specifically, by welcoming outsiders—white people—nilly-willy into their indigenous community, whose members are immune to the zombie virus, it endangers everyone in the compound who have been thoroughly examined. This antagonist could have been compelling had the writer-director painted the man as a pragmatic, clear-thinking survivor all the way through. The final fifteen minutes lacks freshness.
Still, "Blood Quantum" is worth seeing for its strengths. It is consistently entertaining, intelligent, and possesses the ability to surprise from time to time. It made me curious about what other stories Barnaby has yet to tell. It is no easy feat to inject something new and exciting to an otherwise tired subgenre.