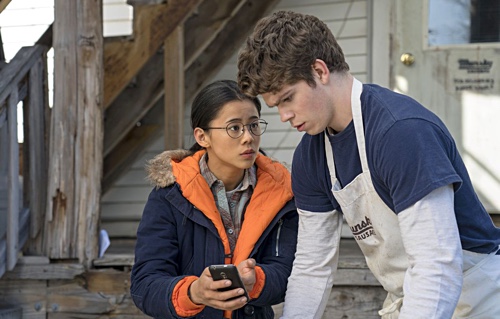 The Half of It (2020)
★★★ / ★★★★
Ellie Chu's (Leah Lewis) claim that the story she's about to show us not being a love story is wrong. Because in the beginning of her story, Ellie's definition of love is narrow. She can use words to describe what love is based on books, movies, television, and other people's accounts, but not based on her own experiences. "The Half of It," written and directed by Alice Wu, is a love story, not between the football player, Paul (Daniel Diemer), and the pretty girl who loves art and literature, Aster (Alexxis Lemire), nor is it a love story between Ellie and Aster. It is a love story of surprising friendship between Ellie and Paul. By the end of the movie we know deep in our gut that this unlikely duo would go on to have a lasting and meaningful relationship. I'd love to know where they are in their lives twenty years from now.
The plot is set up like a typical screwball comedy. It is well-known to her classmates that Ellie runs a business writing essays—"It's an A or you don't pay." Paul, self-proclaimed to be not so good with words, comes up with what he thinks to be a great idea: Hire Ellie to write—not an essay—but an anonymous love letter addressed to Aster, the very same girl Ellie has a crush on, so that Paul, once he reveals he is "actually" the anonymous writer, can have a chance of taking Aster on a date. Although convinced at first it is a bad idea, Ellie decides to take on the job—for $50 dollars instead of the usual $20. Utility bills are overdue. All of these contortions and gymnastics regarding false hopes, yearnings, and mistaken identities are handled with clarity, energy, and a real joy for the material.
It is most enjoyable to watch Ellie and Paul's scheming partnership evolve into a friendship. There is a very funny scene that perfectly encapsulates how different they are compared to one another outside of physicality (he's tall, she's short), hobbies and interests (he's an athlete, she's a brainiac; he's a cook, she's a musician), and cultural identities (he's caucasian, she's Chinese). It involves an Indian movie where a sad-looking woman is sitting on a train and her lover outside chases after her once the train starts moving.
Ellie focuses on how ridiculous it looks and the impracticality of doing such a thing in real life. She's not down for grand and fantastic gestures. Meanwhile, Paul's attention is on the feeling that the scene evokes and what the gesture means for the characters in the movie. He thinks there is not a poetic bone in his body, but his innate sweetness reeks of it. This is just one clever example from at least a dozen instances of the duo's contrasting personalities and worldview. They clash but in a quiet way. At times their exchanges are dripping with sarcasm (mostly from Ellie). The friendship is often handled with humor, tenderness, and good ear for dialogue.
The picture is not without disappointing clichés that I wished had been removed completely. For example, there is a speech in front of a crowd designed to cause major drama which I not only did not buy at all, I felt the decision to put this scene in the movie betrayed the more humble elements that came before. Another annoying addition involves some of the classmates bullying Ellie due to her ethnic identity. Why include it in the picture when the bullying is not shown to be especially hurtful or pernicious? At times it looked silly, light, or fun. Do not get me started on those dumb standing ovations. These do not belong in this otherwise terrific film.
"The Half of It" is an LGBTQIA+ picture in which sexuality is deemed not to be the most important thing. By doing so, it makes the case that sexuality is identity, but it is not necessarily a defining feature—at least in this story and from Ellie's point of view. It has more in its mind than simply getting the boy or the girl or coming out of the closet. It is about specific young people who wish for freedom above all—the freedom to create, the freedom to stand up, the freedom to leave the only place she's ever known, the freedom to love and be.