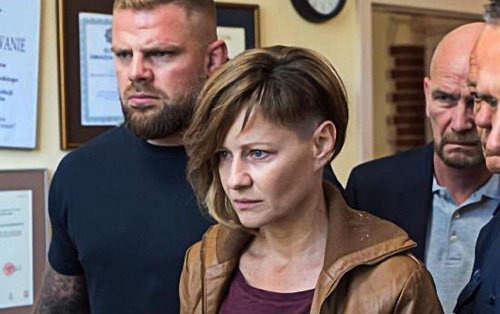 Plagues of Breslau (2018)
★★ / ★★★★
Patryk Vega's "Plagues of Breslau" begins with a curious premise involving a cow hide being found in a market and inside it is a man who has died only two hours prior, but despite the handful of grim occurrences throughout, it is not a captivating thriller. It is as clear as day that the picture is highly influenced by Jonathan Demme's modern classic "The Silence of the Lambs" and David Fincher's savagely entertaining "Se7en." However, it does not possess a screenplay that is character-driven nor one that is deeply interested in complex morality. What results is a parade of reveals surrounding fresh corpses with words seared on their bodies: "degenerate," "corrupt," "oppressor," and the like. What should be gruesome grows stale.
Lead investigator of the serial killings in Wrocław is Helena whom we meet in her car, crying and holding a pistol in her hand. She is played by Malgorzata Kozuchowska with silent intensity and with a voice so calm, even soft at times, we wonder if she is moved at all by the murders. Or perhaps she is numbed by the fact that although her fiancé had been killed by a drunk driver, the driver went unpunished. Does she harbor anger for the system she works for? Clearly, she remains in mourning. Is she fit to be on the job at this time, especially when facing a very clever unsub?
Kozuchowska makes some fresh choices on how to portray Helena despite the screenplay's lack of willingness to engage with the character in such a way that by the end we see a whole person rather than a tough persona of a woman who has been in the police force for years. The work does not answer the question of why this particular heroine is worth following other than she is simply on screen sporting a quirky haircut (a third of her head is shaved). The shallow characterization makes, for example, flashbacks toward the end feel rather cheap, tacked on. Although they fill in certain pieces of the puzzle, these revelations come across forced.
It is a shame because the picture offers a few attention-grabbing set pieces. A great example involves a racehorse galloping down the street as terrorized pedestrians jump out of its way. Because the action functions on such a level, matched by skilled editing and energetic framing, we miss so much information at a given time that when a twist occurs, we feel it is deserved because all the answers have been presented to us. It plays fair. If only the rest of the movie functioned on a consistently breathless but detailed level.
Notice when the action dies down, there is minimal detective work. Helena and Iwona (Daria Widawska), a specialist profiler from Warsaw, visit places and interrogate citizens, but there is a dearth of hands-on, dirty police work; it feels sanitized, a fantasy version of what actual police work is like. We merely anticipate what the killer will do before 6PM strikes. Because it is revealed early on that the unsub appears to be inspired by an 18th century figure who felt he needed to purge human fallacies (degeneracy, pillaging, corruption, slandering, oppression, treachery) in order to bring justice and peace to his city. And so for one week, beginning on Monday, one person who is guilty of one of the fallacies will be publicly executed. (Sunday is considered to be a holiday so a total of 6 people are expected to die.)
"Plagues of Breslau" plays a hand so conventional, I thought about similar television shows that work on a much higher level about half a dozen times. While it can be entertaining on the surface level, there is nothing but air once you bite into it. Certain elements—like women being disrespected in a traditionally masculine work force or what is expected from the female gender despite so-called progressivism in our modern times—are there to make a really angry film with something of value to say. But for some reason, the writer-director fails to focus on what it is he wishes to communicate by using serial killings as a template.