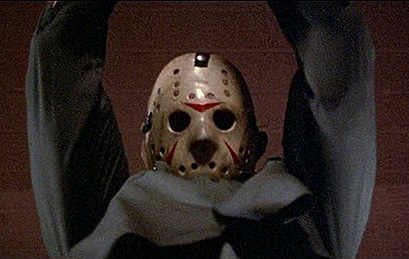 Friday the 13th Part III (1982)
★ / ★★★★
It is funny that although "Friday the 13th Part III" has a similar running time to its predecessors, it feels much longer than either of them. Funnier still is the fact that I found potential in this picture, particularly the first half, because gone is the usual formula involving camp counselors gathering in or around Camp Crystal Lake. Instead, we follow a group of friends spending the weekend at Higgins Haven, once a home to Chris (Dana Kimmell) who left two years prior due to an incident while she was out in the woods after a row with her parents. But the second half is such a drag, not even Jason Voorhees (Richard Brooker) finally wearing his notorious hockey mask is able to save it.
Like the first sequel, I enjoyed this group of sheep to be slaughtered so I wanted to know more about them. Every one of them is good-hearted in their own way—yes, even the clown, Shelly (Larry Zerner), who pretends to be seriously injured or dead using elaborate toys or cosmetics for attention—but not one of these surface personalities reveals something new, odd, or surprising. In the previous movies, at least one, usually the final girl, is shown to have another dimension to her. Here, not even the last survivor is or becomes mildly curious. As easy as it is to point to the subpar acting across the board, the problem lies in the unimaginative and unambitious screenplay by Martin Kitrosser and Carol Watson.
The first thirty to forty-five minutes promises humor. For instance, we meet a biker trio (Nick Savage, Kevin O'Brien, Gloria Charles) when Shelly and Vera (Catherine Parks) run into them at a convenience store. Although there is a threat of violence, clearly the gang is meant to be cheeky more than frightening. It feels like they are ripped right off midnight exploitation pictures. Even two of Chris' friends are potheads (David Katims, Rachel Howard). Again, instead of using these personalities to provide moments of levity in between gasps of horror, the writers do nothing interesting with them. We know they're bound to get killed, so why not have some fun along the way? Finally, listen closely to some of the dialogue. They sound pornographic. So you'd think that the sex scenes would be steamy. But alas.
Setup to the kills are a bit more polished this time around. However, this comes at a cost. For instance, given that Jason has begun to wear a hockey mask, there are a lot more shots in which we see him from head to toe. In the previous sequel and the original, either we take the over-the-shoulder perspective of the killer or the killer's body from the chest up is hidden using shadows or other objects for about half the picture. Due to the limitation, there is more opportunity to create interesting shots. The level of suspense may not be high, but at least the angles from which we absorb the action are curious some of the time. Thus, due to the newfound freedom of showing Jason's entire body, this film feels more like today's slasher movies.
"Friday the 13th Part III," directed by Steve Miner, is not unwatchable, but it is clearly inferior to its predecessors. I admired the small changes—such as the shift from camp counselors to a group of friends and the more humorous tone—because it shows that attempts are made to keep things a bit fresh. But the changes must be supported by good reasons. Because why make changes when these are not going to be utilized in such a way to elevate the entire work?