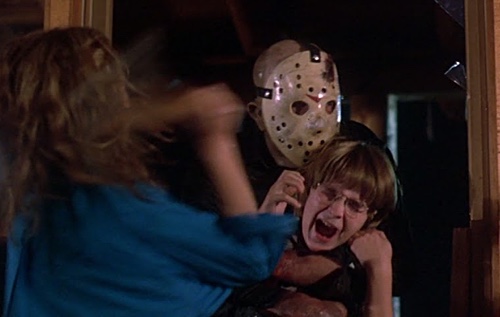 Friday the 13th: The Final Chapter (1984)
★★★ / ★★★★
There is no typical final girl in the third sequel of the "Friday the 13th" franchise, "The Final Chapter." Based on the screenplay by Barney Cohen, it is the most inspired one of the lot thus far, surpassing even the original in my eyes, because it is able to recognize patterns (read: cliché) that plagued its predecessors and manages to add some nifty twists to them. Much darker in tone and atmosphere than "Friday the 13th Part III," which had potential because, like this film, it attempted to break away from the formula of the plot focusing on camp counselors gathering in or around Camp Crystal Lake, home of Jason Voorhees (Ted White), all to be slaughtered by the end of the movie—except for one.
This time, the story picks up right from the bloody aftermath of "Part III." Jason is supposedly dead, but he springs to life while at the hospital, killing a nurse and a coroner. We get back to Crystal Lake… but the interest lies not in the group of teenagers who move to a cabin for the weekend. Instead, we meet Tommy and Trish Jarvis (Corey Feldman, Kimberly Beck), as well as their mother who loves to jog (Joan Freeman), a family still recovering from a divorce. (We also meet the dog Gordon.) Remove this family completely from the picture and it is interesting that what remains is a reproduction of the first two films. Perhaps that is the point: To tie up the first four moves in such a way that there is at least a semblance of cohesion.
As expected, we get the usual slicing and dicing, sharp objects piercing through the abdomen, post-coital blood spattering. There is even a creative use of a corkscrew. Half of the teenagers are standouts, for better or worse. Most memorable is Crispin Glover as Jimmy/"Jimbo," the socially awkward one who is a bit sad for being turned down by a girl right before their trip. His dance moves must be seen to be believed. Another memorable actor is Lawrence Monoson who plays Ted the clown. I found him to be especially annoying because, unlike Shelly (also a clown) from "Part III," Ted is not given any interesting dimension. With Shelly, he is written to be a lonely clown—it is clear he just wanted a friend. Ted, on the other hand, is just obnoxious. At one point I wished for Jason to appear when Ted was alone in a dark room just so there wouldn't be any more scenes of him that I'd have to endure.
What elevates this slasher film is not the kills but the approach. We get the usual in-your-face violence. But there also times when we simply see shadows of Jason impaling his victim while out in the rain. Occasionally scenes end abruptly as the victim is in the process of dying—as if to communicate that the point has been delivered and so it is time to move on to next rising action culminating in another brutal killing. The fact that it doesn't linger communicates a certain confidence, that it has a lot more to show. "The Final Chapter" is the most fast-paced installment so far. I think it is because the filmmakers are excited to show their ideas.
Make-up artist Tom Savini is back for "The Final Chapter," and it shows. There is beauty to the broken limbs, deep cuts, and open wounds gushing blood. I wanted to study certain frames just a bit longer. But I think I enjoyed it most because director Joseph Zito is actually interested in showing deeper characterization compared to the other pictures. We observe Trish's maturity as the elder sister; Tommy takes us up to his room to show off his hobby: making monster masks and props. And so when it is time for them to face the seemingly unstoppable Jason, we wish for them to get away not for the sake of having survivors but because we want their stories, their lives, to go on. "The Final Chapter" is a step in the right direction.