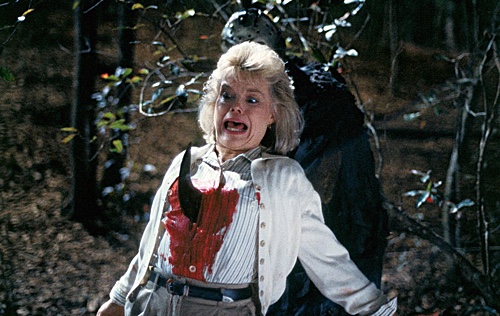 Friday the 13th Part VII: The New Blood (1988)
★ / ★★★★
Introducing a heroine with psychic powers is actually near the bottom of the list regarding the problems that plague "New Blood," yet another limp sequel directly following one of the highlights of the series. In the superior "VI: Jason Lives," it is established that Jason Voorhees is a walking corpse and so to have a telekinetic protagonist square off against the undead this time around is not much of a leap. I happily accepted this new direction, but, as always, what matters most is the execution—how well this avenue is explored given a set of familiar, or possibly new, rules.
The final product is a near-disaster. The screenplay is written by Daryl Haney and Manuel Fidello, clearly influenced by Brian De Palma's "Carrie." There is visual and special effects galore, but the writers fail to answer a basic question: What makes Tina (Lar Park-Lincoln) a compelling character outside of her supernatural abilities? A deeper question: How is Tina a worthy opponent for Jason? These two question go answered until the end credits and so what we are left with is run-of-the-mill slashing and hacking. No tension, no suspense, no thrills.
As in "V: A New Beginning," it is a struggle to remember the names of the friends in the neighboring cabin who gather to throw a surprise birthday party. (As expected, their friend and his girlfriend never make it to the celebration.) Only two are standouts: Nick (Kevin Spirtas) as Tina's earnest romantic interest and posh pearl necklace-wearing Melissa (Susan Jennifer Sullivan) who throws herself all over Nick, not getting the hint that he does not like her at all—not just as a potential romantic partner but as a person in general. Nick is written in the most boring way possible, simply created to look concerned for Tina when she's agitated and to protect her when the masked killer shows up. This nice guy character is completely unnecessary because his constant interruptions delay the inevitable battle between Tina and Jason.
Jason does not get a taste of Tina's telekinetic powers until the final fifteen minutes—a mistake considering the fact that the point of the movie is to showcase the clash of supernatural phenomena. I enjoyed the crispness of the visual effects for its time, particularly when buildings are torn apart little by little and eventually collapse. Park-Lincoln does what she can with the role. I sensed she possesses dramatic chops, especially during scenes when Tina is in a room with a psychiatrist, Dr. Crews (Terry Kiser), who promises treatment in regards to her emotional imbalance but actually only there to take advantage of her and her abilities. However, the screenplay possesses only a superficial idea of trauma stemming from childhood. So the performer is not given much to work with other than to look flustered as people around her die.
"Friday the 13th Part VII: The New Blood," directed by John Carl Buechler, is a misleading title on all fronts. The story does not take place during Friday the 13th. There is nothing new about it—not in terms of characterization, plot surprises, or ways in which blood is delivered. And what does it mean by "New Blood"? I wondered if it referred to Tina replacing Tommy for the role of central protagonist, the latter terrorized by Jason when he was only twelve. Or does it refer to the new batch of teens to be skewered and slaughtered? In any case, halfway through I realized I missed Tommy. He may not have a special ability but at least he was interesting.