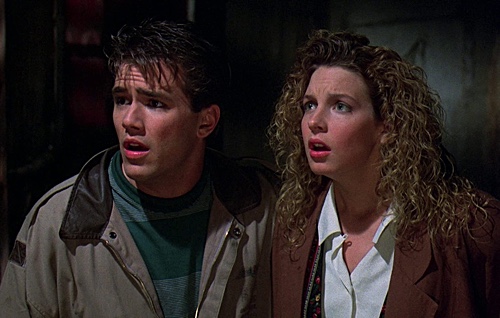 Friday the 13th Part VIII: Jason Takes Manhattan (1989)
★★ / ★★★★
This is a strange one. A case can be made that "Jason Takes Manhattan," written and directed by Rob Hedden, is actually composed of two pictures. The first half takes place on a cruise ship in and around Crystal Lake, and the second half unfolds in New York City. The former is technically superior in every way compared to the latter, but the Manhattan chapters are more fun in that, as a whole, it is a minefield of unintentional humor and it becomes increasingly ridiculous by the minute. (The final confrontation takes place in the sewers. Is it going for gross-out horror?) I do not recommend the picture for casual audiences, but for fans of "Friday the 13th" series, I believe it does the job.
Collectively, this group of soon-to-be high school graduates to be slaughtered by Jason Voorhees (Kane Hodder) command stronger star power compared to the cast of previous installments. There is Jensen Daggett, playing the central protagonist Rennie who is still dealing with childhood trauma involving a drowning; Scott Reeves as nice guy Sean who is pushed by his father to take on a career he has little to no interest in; Sharlene Martin as prom queen and mean girl Tamara; and Martin Cummins as Wayne the aspiring filmmaker. Each one has a memorable face and personality—which makes for an enjoyable watch. It is curious, too, that this time around the picture is in no hurry to kill off its characters. In this franchise, it expected for characters to be introduced and only to be gutted five to ten minutes later.
The change of scenery from the usual cabins and camping grounds to a small cruise ship is a welcome change. The reason is because there are more opportunities for claustrophobic shots, particularly in cramped rooms and hallways. The engine room is damp and murky, offering plenty of hazards. Tighter shots underscore the sheer size of undead Jason; there is reason to scream because not only is the threat credible, there is also not much room for escape. And it isn't exactly comforting when there's a murderer nearby for one simply cannot run or drive to the nearest police station. (Not that they're of any help in slasher films.) As usual, the violence is brutal, gory, and in-your-face. However, there are a few off-screen deaths for the sake of changing things around. (Particularly alarming is the way one of the supporting characters is exterminated. Maybe the performer had another project she had to attend to?)
The Manhattan portrayed in this film leaves plenty of laughs for those with an open mind. Notice that when New Yorkers lay eyes on a massive masked man who is dripping wet with seaweed covering his clothes, they remain rather unfazed. Just the usual psycho walking about. They are only bothered when Jason makes physical contact with them or when another person is picked up and thrown across the subway. It is also a bit of a miracle that it is only ever dirty outdoors. Almost everyone outside is a punk or a drug addict. It is so reductive, it is impossible not to laugh at what's being shown on screen. Yet I had a difficult time in telling whether it is meant to be taken seriously. It's quite straight-faced. The dialogue offers few jokes, if any.
Still, I enjoyed it for what it was. I didn't give a hoot about Rennie's aquaphobia, but I found myself wanting her to survive. Though I must say that the film is averse to sweet moments. Rennie and Sean like each other outside of the sexual realm. And yet when they kiss, the tender moment is immediately disturbed by the presence of Jason. But when a sexual scene involving other characters is front and center, breasts and buttocks and all, it is allowed to unfold for however long. I was annoyed by this, even angered by it for some time. Is the message supposed to be that no strings attached sex is allowed but not a meaningful and genuine connection between two young people? I found that attitude to be far uglier than seeing rotting Jason unmasked.