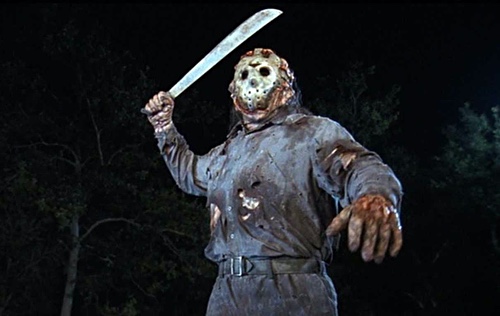 Jason Goes to Hell: The Final Friday (1993)
★ / ★★★★
For a much better time, watch Jack Sholder's "The Hidden" instead.
It appears that the screenwriters of the ninth "Friday the 13th" installment, Jay Huguely and Dean Lorey, has learned nothing from the downright awful "V: A New Beginning." That is, it is not at all a good idea to take out or hide away the true Jason Voorhees, the unstoppable killer sporting a hockey mask, because he is the movie; it is demanded he be front and center. In an attempt to explain this iconic villain's invincibility, and to provide so-called closure for the series (the final shot suggests otherwise), those at the helm take on several plot contortions that do not fit the mold of the slasher subgenre. What results is a confusing, limping mess—laughable, ridiculous, interminable. About halfway through I caught myself thinking, "This is not a Jason movie."
Jason's body (Kane Hodder) is blown to pieces. This is not a spoiler because it is presented to us in the first scene before the opening credits. So, what we come to know as Jason's body is rendered useless. But the writers have a "brilliant" idea (read: idiotic)—Jason's body is just meat, something worn… which means it can be shed. For the real Jason, you see, is a small demonic creature that can jump from one person to another and take control. Less than twenty minutes in, the picture has turned into a creature feature—and so it must be evaluated as such.
The creature itself does not look impressive. It looks rubbery and gooey, but director Adam Marcus is so busy placing emphasis on fourth-rate action—shootings, stabbings, screaming, scrambling—that he neglects to show, with a keen eye and patience, the supposed true form of Jason. I felt the director himself is embarrassed of how the creature looks and so he attempts to hide it as often as possible. It is alien-looking, certainly bizarre, but far from the quality of terrifying and memorable creatures in pictures like Ridley Scott's "Alien" or John Carpenter's "The Thing." It is curious that the form of the monster isn't spectacular, or even mildly impressive, because the "Friday the 13th" franchise has been financially successful. Where did the money go? There is no excuse for such D-grade special effects.
Jolts are elementary and often substandard. Anybody who has seen a horror movie will not be surprised by any of the jump scares. When you think something will appear suddenly in a dark corner, it does. When you suspect a person has been taken over by the creature, he is. Cue shots of a character standing by a window and suddenly the window breaks and she is grabbed from behind. There is nothing inspirational or original in these would-be scares. Also notice that when an action sequence is supposed to be urgent, there is a laziness to the camera work. Actors move briskly and hit their marks but since no enthusiasm is radiating from behind the camera, the final product looks and feels incredibly slow. There is no semblance of tension.
"Jason Goes to Hell: The Final Friday" is severely misguided. The series is not defined by story or particularly deep character development. It is about giving the audience what they come to expect from a slasher film and altering the formula just a little (like adding supernatural elements as found in the worthy "VI: Jason Lives")—even if by the end of the day it fails. This entry is dead on arrival because the writers willingly place their work against a decade's worth of lore. Couple this disadvantage with a lack of craft from behind the camera as well as enthusiasm to genuinely entertain, what results is a new low. I found it be depressing every step of the way.