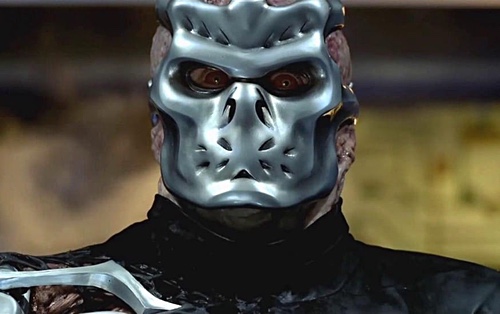 Jason X (2001)
★ / ★★★★
"Jason X" is so a product of the early 2000s, given its forced futuristic setting and nasty tendency to save a most useless, whiny character well into the latter half of the picture serving only to create more trouble for the other remaining survivors. Although this tenth entry in the "Friday the 13th" series is an improvement from the hopeless miscalculation that is "Jason Goes to Hell: The Final Friday," it remains a slog to sit through. The reason is because it functions more as an action film than a horror movie. The work suffers from a serious case of repetition.
I enjoyed that writer Todd Farmer takes a risk by sending Jason (Kane Hodder) and the new group to be slaughtered into the future and in outer space. The series is begging for a massive makeover, so why not go all in? The idea isn't as preposterous as it sounds. I argue that keeping the story in or around Crystal Lake for the umpteenth time and expecting different results is equally ludicrous. I went into it with an open mind and, to my surprise, was entertained at times.
Up until about the twenty-minute mark, there is a semblance of a possible good movie. We witness a scientist, Rowan (Lexa Doig), desperately trying to put Jason in cryostasis following another murder spree of soldiers who wish to restrain and transport him out of the facility. Dr. Wimmer (David Cronenberg) wishes to study Jason's extraordinary ability to rapidly regenerate. One thing leads to another and Rowan and the infamous killer find themselves more than four hundred years into the future. Director Jim Isaac has the sense to show the uninhabitable earth (now called Earth 1), the massive spacecraft, the people aboard and their mission, down to how subjects are defrosted and repaired. There is even android played with a wink by Lisa Ryder.
It offers some nifty visual effects, particularly of the "ants" (nanorobots) which cover the entire body, crawl inside crevices, and fix damaged organs. The picture even has a sense of humor about itself. While not particularly sharp with its satirical angle, there are a few chuckles that result from nudging clichés that plagued '80s slasher flicks, including this franchise, like sexual purity essentially functioning as shield against surefire death and the trouble that comes with not making sure if the enemy is really, truly dead. A particularly brilliant exchange involves newly revived Rowan and Dr. Lowe (Jonathan Potts), professor in charge of a field trip on Earth 1.
Rowan ponders over the establishment not allowing certain "artifacts" to remain dead because there is money to be made from nostalgia. We wonder if she is only talking about "artifacts," like herself, that can be thawed from cryostasis. But it is likely that the writer is criticizing movie franchises—like this one—chugging out one sequel after another, no matter the quality, for the sake of maintaining the brand. If "Jason X" were a better movie, this statement would have meant something.
Eventually, however, the viewers are blanketed by shootouts, people being tossed into the air only to pass out or break their necks, and the like. There is one cool death scene involving a drill followed by a joke—but this happens early on. The longer the action sequences run, the more we are reminded that perhaps it really is time for the "Friday the 13th" series to hang up the phone. There are a few interesting ideas here, but they are not fully realized—not enough to keep a ninety-minute feature afloat.