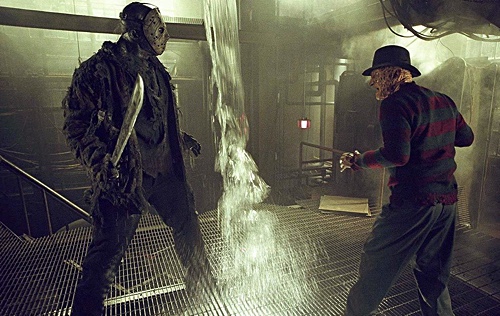 Freddy vs. Jason (2003)
★★ / ★★★★
There is an interesting (and gratuitous) idea behind two '80s horror icons duking it out in "Freddy vs. Jason," written by Damian Shannon and Mark Swift, but the picture is so saddled with exposition, we do not see Freddy Krueger (Robert Englund) and Jason Voorhees (Ken Kirzinger) battle one another until more than halfway through. Instead, we follow Lori (Monica Keena) cry, mope about, and act traumatized after a classmate is brutally murdered in her house during a small get-together with friends. She is a far—well, cry—from the protagonists of "A Nightmare on Elm Street" and "Friday the 13th" movies. A case can even be made that not only is she less intriguing than the villains, she pales by comparison against all of her friends. More on this later.
The aforementioned curious idea is the push behind the premise. Because Freddy has been forgotten in Springwood, he is rendered powerless to kill people in their dreams. In other to regain his powers, he comes up with a plan: To resurrect Jason and send him to the suburbs to wreck havoc. Surely a murder there would trigger a chain reaction of suppressed memories so that residents would once again utter the name Freddy. And they do. But Jason isn't the type to be used; he is, after all, an invincible walking corpse who doesn't take kindly to insults. The screenplay does a good job in laying out a clear motivation for Freddy and Jason. When these two are on screen, together or apart, the movie comes alive.
I have seen every "Nightmare" and "Friday" picture to date, and, in terms of brutality, this film is high up on either list. Director Ronny Yu is not shy, for instance, in showing Jason take a machete and cut his victim in half. The camera remains unblinking as the upper torso separates from the lower abdomen. I cannot remember if it was also shown in slow motion—but it felt like it due to my sheer surprise. In previous "Friday" flicks, this level of gruesomeness is never shown. And then the director takes it up a notch. A few beats later, the two halves are shown on the floor completely lifeless—blood, guts, and all. It is likely to satisfy gorehounds.
But in between Jason and Freddy's epic showdown, we follow the boring human characters. Lori is not at all compelling heroine. While Keena can cry or look tortured at a drop of a hat, Lori lacks convincing strength. So, for example, when she yells out would-be quotable badass lines toward the end of the picture, it comes off terribly fake. Keena co-stars with Jason Ritter, playing a boyfriend who had been sent to a psychiatric hospital four years ago due to something he witnessed; Kelly Rowland as Lori's sassy best friend who wants to get a nose job; and Chris Marquette, portraying a geeky classmate who remains to have a crush on Lori even though it is blatantly obvious she has no interest in him. Ritter, Rowland, and Marquette wield such charm, at any given moment I can look at their characters and feel fire in their bellies. I failed to detect even an ember crackling in Lori. Why is she our main protagonist?
Due to the dead dull human characters—most of whom are just dead eventually—one must wonder if they are actually needed in a film like this. In terms of bloodshed between the titular characters, it works. We see Jason, while dreaming, struggle to keep up with Freddy—who is so fast, quick-thinking, and occasionally clever with puns. When the table is turned while out in the waking world, Freddy looks like a limp rag doll—or cockroach—pushing against the muscular silent boulder. Although at times apparent CGI is used, it doesn't matter because there is joy in letting these two have at it. If only the screenplay were as enthusiastic in allowing the human characters—particularly our heroine—to shine, not just serve as fodder. Perhaps it would have been better if all of them had been killed nearly halfway through. That would have been a daring move—a first in either franchise.