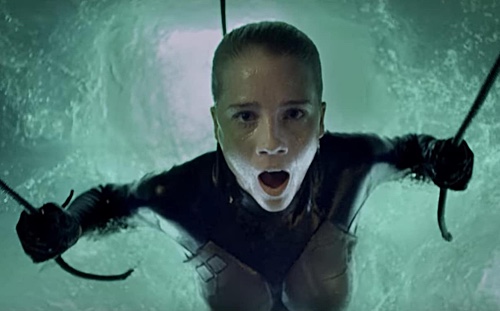 Time Trap (2017)
★ / ★★★★
To claim that "Time Trap" plays like a Syfy movie would be an insult to Syfy movies because a good number of those made-for-television projects actually try to deliver a payoff. This film, written and directed by Mark Dennis (Ben Foster co-directs), simply ends in a most rushed fashion, one might claim the filmmakers ran out of budget. But I push it a bit further: I believe those who made the picture simply do not possess a big enough imagination to be able to cap off their story in a satisfying way. So, end credits are dropped so abruptly in order to save face. To claim that "Time Trap" is a waste of time would be an insult to the phrase. Avoid this at all costs. I beg you.
The plot: An archeology professor (Andrew Wilson) discovers a mysterious hole in a desert. He goes inside and has not surfaced for two days. His students (Reiley McClendon, Brianne Howey) suspect something bad must have happened so they decide to follow suit—taking three others in their doomed rescue mission (Cassidy Gifford, Olivia Draguicevich, Max Wright). Although numerous major hints point to the idea that time is likely to work differently inside the cave, these braindead characters deny every opportunity to accept their situation. The screenplay seems stuck in its own time loop; with every repetitious scene boredom increases exponentially.
Pay close attention to the awful dialogue. There is no sense of economy. When one word is enough to express a feeling or thought, three sentences are employed instead. It does not help that the delivery is almost always flat. Maybe it would have helped if the actors were actually in a cave rather than a studio. Perhaps then they could have felt genuine emotions like fear of being lost or trapped and confusion upon the discovery that time stamps of video cameras do not match when two people get separated only for a few minutes. More than half of the scenes needed to be reshot due to an overall lack of conviction. Better yet—rewrite the screenplay completely; the expository dialogue feels like a hyperactive pugilist beating the eardrums.
Another major problem is the failure to establish rules. Just because the story is meant to be mysterious does not mean that anything can happen. If so, then why bother telling a specific story from a defined perspective? A sensible sci-fi picture that deals with the passage of time should have an anchor. In this case, for example, it should be the cave. How many minutes, hours, days, months, or years would pass if a person were to spend in a cave for one minute? The movie does not answer. It certainly would have added much-needed suspense. Assuming that we are watching the characters in real time, and we have a complete idea of the time that passes on the surface relative to the cave, tension increases the more they make mistakes, argue, or dither about.
But no. The filmmakers assume we are too stupid to be able to make the most basic mathematical conversions. Instead, we are inundated with visual effects that mean nothing, especially during its most bewildering final fifteen to twenty minutes. Here is a movie so confident with its incompetence, it sets up a possible sequel head held high. If it does happen, I hope it is released a thousand years from now because 1) I'll be dead and would have no choice but to miss it and 2) by then absolutely no one would care.