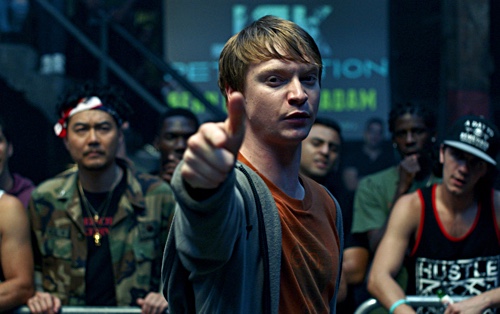 Bodied (2017)
★★★ / ★★★★
The subversive satirical comedy "Bodied" tells the story of a white and privileged UC Berkeley graduate student whose thesis involves the usage of the word "nigga" within the context of battle rap. It is energetic, propulsive, clever, and takes no prisoners. Screenwriter Alex Larsen and director Joseph Kahn are teeming with ideas—about race, gender and sexual identity, trigger warnings, fame, campus politics, political correctness—they pack them all in here—at times at the expense of creating major imbalance in storytelling. But this is the kind of risk daring filmmakers are willing to take when they are so confident that the material works. And it does. Here is a movie that hooks you all the way to the finish line.
The earnest graduate student and eventual battle rapper is named Adam. He is our protagonist but he is far from the hero of this story. Adam is smart, articulate, and adaptable—not dissimilar to a mad scientist but whose expertise is history, literature, and poetry ("humanities"—there is irony here) as opposed to science and mathematics. The character is played with terrific and alarming intensity by Calum Worthy, capable of exuding a mix of goodness and wildfire obsession to hide the fact that his character, deep down, is a scumbag. Worse, he thinks he's a good person. There is no redemption arc to be had here—appropriate because the film's approach to the subjects it touches upon is unapologetic. Like standout satires, this one holds a mirror on our society, points at what's wrong, and demands that we take responsibility.
Yet the picture offers no solutions—the correct decision since it is not enjoyable to sit through a lecture in a comedy. Instead, the majority of the movie is composed of highly amusing—often laugh out loud—battle raps among personalities so colorful (Jackie Long, Jonathan Park, Shoniqua Shandai, Walter Perez), we get to know them not just in how they relate outside of the match but also how they are like when within the headspace of competition, when faced with an opponent whose goal is to humiliate and break them down. And in the age of insta-share culture, everyone not only learns of your humiliation within seconds, you get to live it over and over outside of the match. So there is plenty at stake.
At its best, the picture reminded me of Martin Scorsese's "Raging Bull" in terms of how the camera is utilized to get in someone's face and capture minute moments of, for example, a competitor's defenses being broken down. Blink and you'll miss specific jabs that really hurt even the most seemingly insurmountable Goliath. Although produced by Eminem (along with Paul Rosenberg, Adi Shankar, Jil Hardin), this is no "8 Mile." It is another level because nothing is off the table. Insults range from physical and mental disability; homophobia; transphobia; being white, black, Asian, Latino, Middle Eastern, Jewish; even vegans are not safe. Every rap battle is exciting because the attitude is risk-taking—risking of offending a certain group even though there are truths—a lot of truths—in what is being communicated and lampooned.
There are moments in "Bodied" when I caught myself thinking, "They did not just cross that line," "Did they really go there?," "…How far will they take this?" Clearly, the work is meant to induce shock, horror, and aggressive laughter that hurts. It possesses an understanding that a satire is rendered ineffective when it takes the middle of the road. And so perceptive filmmakers play upon the extremes. Do not miss this gem; it deserves a cult following.